Our 25' Atlas Acadia
"Petunia" is now for sale (as of 11-5-20). $46,000.00
Located in Bradenton, FL. Many, many Updates to our boat.
See the "Specifications" page for the extensive list.
Email:
Robert Mulligan-Owner
Photontek@aol.com

After nine years of rebuilding our 40' Marine Trader trawler, we came to the realization that it was just way to big for us and for our type of "cruising" at this point in our lives, it was just too much "work" for us to get it ready for a short day cruise and relaxing. Big everything. Big engines, Big anchor, Big mooring lines, basically huge amount of effort to get the boat ready for a short journey to a local afternoon of Florida sunning. The original idea for "Gulf Trader", our trawler, was that at some point, we would join all those pro-cruisers and head to the Islands for a couple months or maybe even to the "Loop" that lots of other trawler owners have done. Nope, we got "old and lazy". So, after reading all those books on trawler explorations and the nine years of bringing the old gal back from a very forelorn exsistance in an old broken down, backwater marina near Tampa, (be sure to take a look at all the work that we did to Gulf Trader, amazing!), we sold her to a much younger gentleman who appreciated all the work that we did to her over the years and would really fulfill our original dreams of long distance cruising. (Note that we also sold the huge house too and moved to a nice tiny condo too). We started looking for an acceptable "tiny ship" that would actually be more suited to the "reality" of our type of cruising, which is mainly Sunday afternoons anchored out at one of the local Keys near Longboat Key but still perfectly equipped for a long weekend cruise. You may of noticed that I tend to like "character" boats and have owned and built quite a few of them. No "normal" plastic powerboat for us. The next boat had to have some real personality so we started looking at the variety of small boats in the 25' range that had that "New England" look and feel. Some type of hull design that not only "looked" like it could plow through the waves and rough water, but was also fully capable of doing so. There are a number of boats from small builders as well as large makers who make very seaworthy boats that fit this description. We looked at quite a few and had thought that we had settled on one very popular manufacturer that has quite a good and loyal following. However, and this is a big part of really figuring out how we are going to use the boat comes in. We are located in hot, humid sunny (and frequently) stormy mid-Gulf Florida. While a fully enclosed cabin might be exactly the right design for more Northern cruising locations, we needed "venilation" as we cruised, even for short distances. We wanted a tremendous amount of air flow through the boat as we traveled to our favorite anchorage here. Lots of air movement, and a closed cabin with doors on the back would not allow that. Also, some of these boat designs, while having a huge cabin, are somewhat "spartan" down below, especially in the Head area. A curtain as a door might work for some, but once in the bathroom area, you want privacy. So a solid door was required. See the pictures below of the Head on the Atlas Acadia. A real "bathroom"! Yes, still a bit cramped but for a 25' boat, not too bad.
So we narrowed our search down to mostly the Atlas Acadia 25. Perfect for hot weather cruising with the open back to the pilothouse area, a good size V-Berth and a fully enclosed Head.

Note that our boat, which is standard for all Atlas Acadia's, has a real swim platform. The outboard powered similar boats use this space for their outboard brackets, which pretty much eliminates this important area that can be used for easy access to the aft end of the boat, plus a great storage area for such needed items as our dink. Other outboard powered boats need to store their dinks, soft or hard, up on top of the cabin roof. This pretty much eliminates space for solar panels which are a great way of minimizing the need for a small gas generator (except if you want to run an air conditioner which is certainly needed if you are anchored out down here, overnight. This Atlas Acadia originally came with a marine, water cold air conditioner that was located under one of the V-Berths. We didn't like the idea of "one more valve, one more set of long tubing" in the boat, plus being located right under the berth, it made sleeping over it a bit impossible. So we removed it and all of its wiring, tubing, valves, etc. "Simpify"! It would be quite simple to get a small 5000 BTU, lightweight "window" air conditioner and mount it, temporarily, on top of the pilot house hatch. The hatch door would still close for night time privacy and to retain a cool environment down below for sleeping.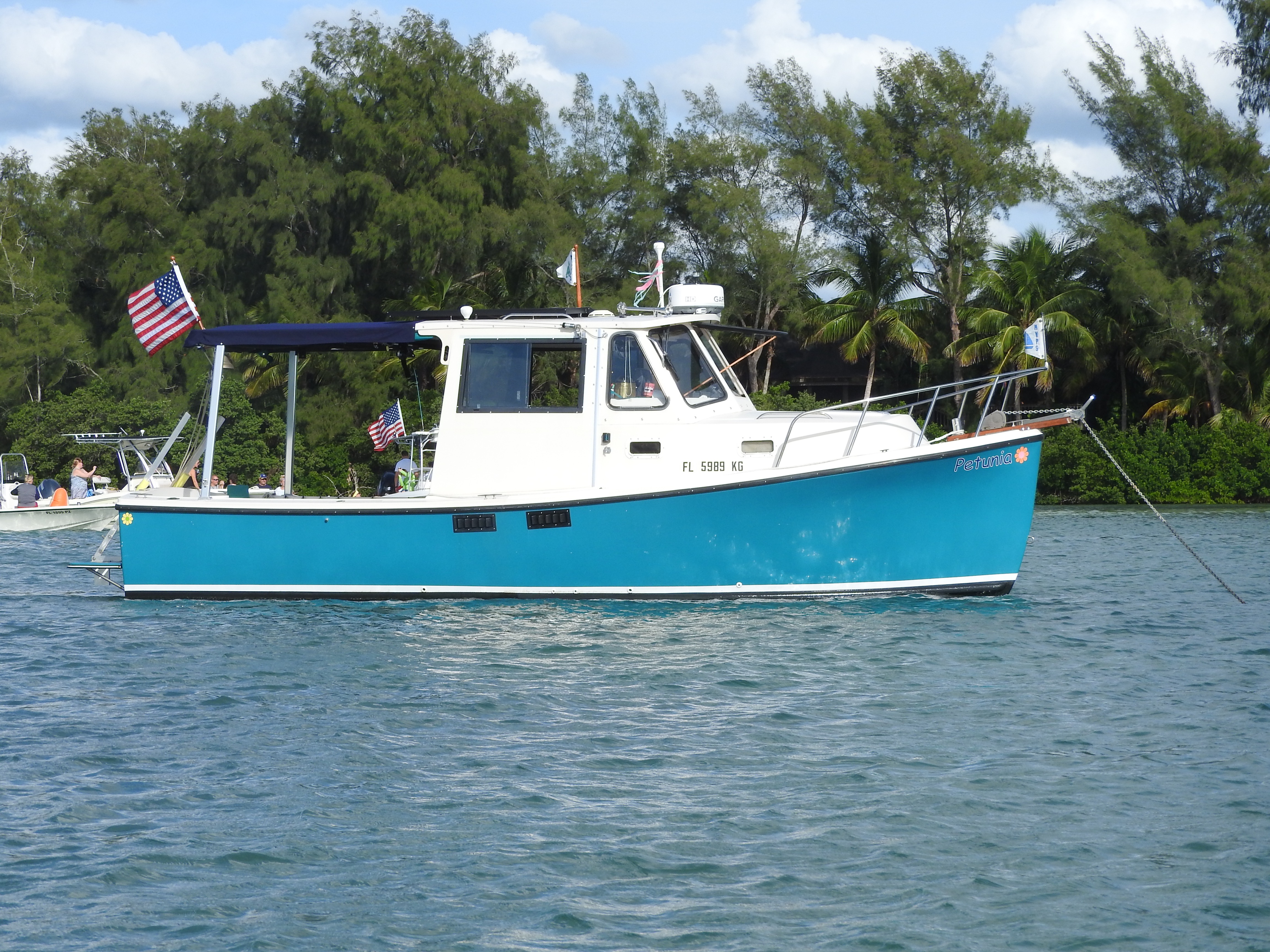 A very "sturdy" looking yacht!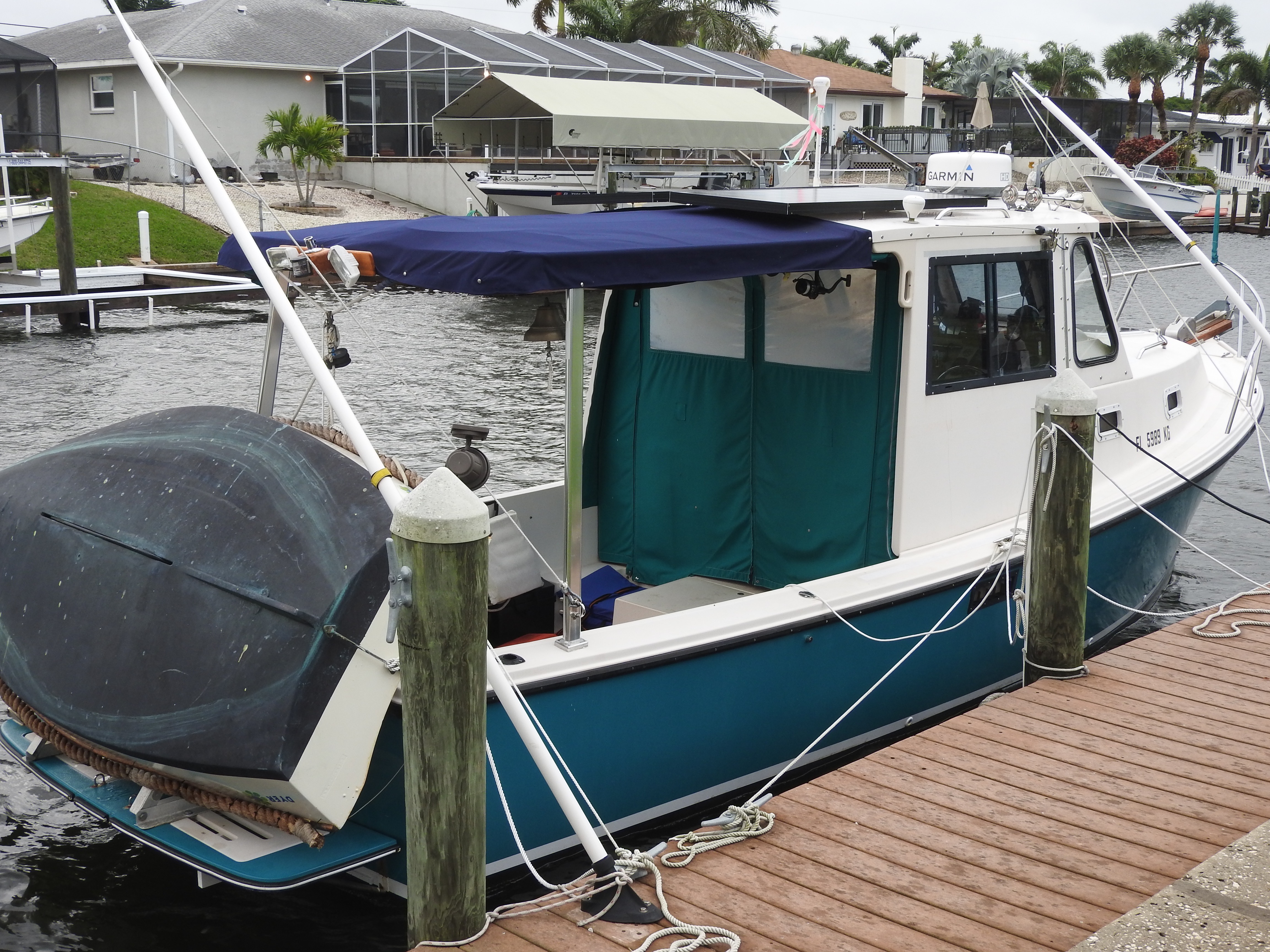 At our dock (right in back of our condo!) with the curtains down.



Lewmar windlass. Because we only used our big trawler for day cruises and never actually anchored out, we never installed the old windlass that had come with the boat. One day while cruising the West Marine shelves, I started chatting with one of the locals about anchoring and he asked me about the ground tackle on our 40' trawler. I stated that we had a 54 pound anchor and 250' of 3/8" chain.

He asked me if I had ever put it down and I said, No, we haven't anchored out yet. He then asked me if I had ever given any consideration to how I would pull that heavy anchor and chain back up. (Going down was simple). No windlass installed on the big boat! So, fortunatly, our "tiny ship" came with a wonderful Lewmar windlass with about 150' of chain and 100' of rope, all very easy to help drop the anchor and retrieve it with a push of a button. The two Kyocera 140 watt solar panels on the roof recharge the batteries while you are cruising. Note that we have a removable Garmin 4212 combo GPS/Radar/Sounder that is our main navigation system on the boat. It's removed and carried home in a fitted computer case upon our return to the dock.





We have added a number of LED White/Red ceiling lights to our boat, inside and outside.

These are simple West Marine round lights that have a White/Off/Red switch option. Unlike the original Perko incandescent ceiling lights that draw about 2 amps per each (and get quite hot), these LED lights, even with all of them ON, draw less than a half watt. The "color" of the light is not very pleasant and they are not as bright as the incandescents, but they are very good for background light so that you can see where you are going, up top and down below. Instead of replacing the original incandescent ceiling lights, we ran new wire from those lights over to the new LED lights, installed right next to the old lights. This allowed us to use the new LED fixtures, and/or the original (very nice color of bulb compared to the blue-white LED's) incandescent fixtures. Note that we added, at the middle of the aft-deck ceilinglight array, a 50 watt spotlight. This hinges down, to the left and is used at night to illuminate our dock when we come in late in the evening.

Our Yanmar 170 HP Turbo-Diesel engine. Easy to check the oil, fluids and belt before heading out. The engine has about 2200 hours on it and is very economical. Cruising at 6-8 knots the sound level is fairly quiet and its a perfect level for chatting.

At about 8 knots, the bow of the boat heads upwards at the boat tries to plane which occurs at 14 knots. The diesel, a slight negative compared to outboard 4-cycle gas engine boats, is more than a bit loud at this point so some yelling is needed. A nice design feature of this boat is that, with the very comfortable pilots seats on each side, the Skipper can stand in the middle, over the engine to get closer to the First Mate (or Admiral...), steer the boat and continue with the chats. There are plenty of grab-bars to hang onto if the boat hits some waves, plus we have added two more for holding onto as you head down below.
A friendly Dolphin playing in our wake. It was an entire family and it appeared that the Mom and Dad were teaching their baby how to jump the waves from our boat. The Dad was doing a complete 360 degree twist as he jumped the wave.



A grey day but ""Petunia" looks right at home.

The full keel and protected prop and rudder is a real asset to the design of the Atlas Acadia.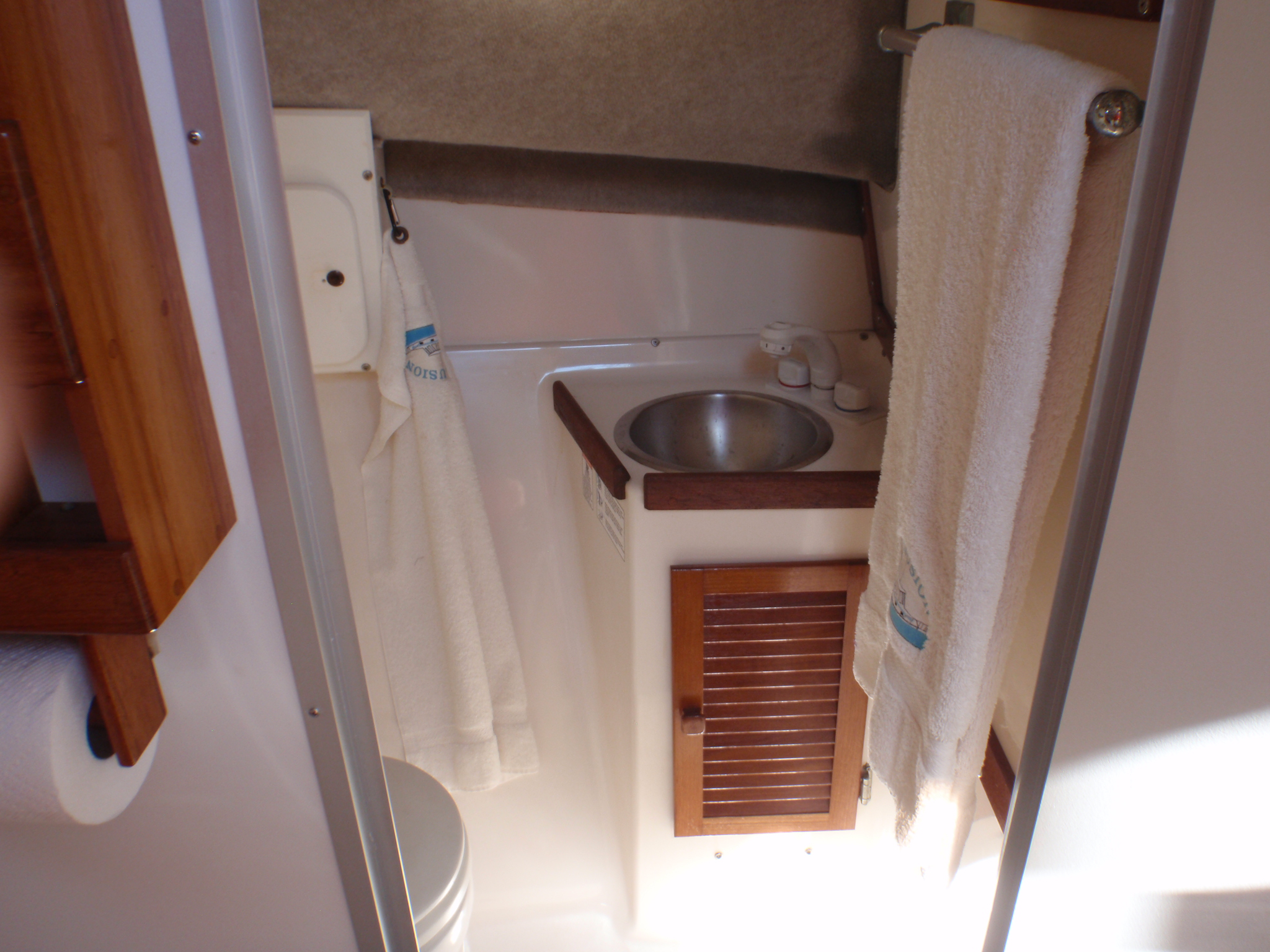 This is one of the main reasons why we liked the Atlas Acadia, compared to other similar boats, the fully enclosed Head. "What happens in the Head, stays in the Head..."

A real solid door, toilet, sink and a shower (the faucet on the sink comes out to form the shower head fixture). However, we have never used the shower in the Head. No need to get the entire "room" wet when we have another shower on the aft deck.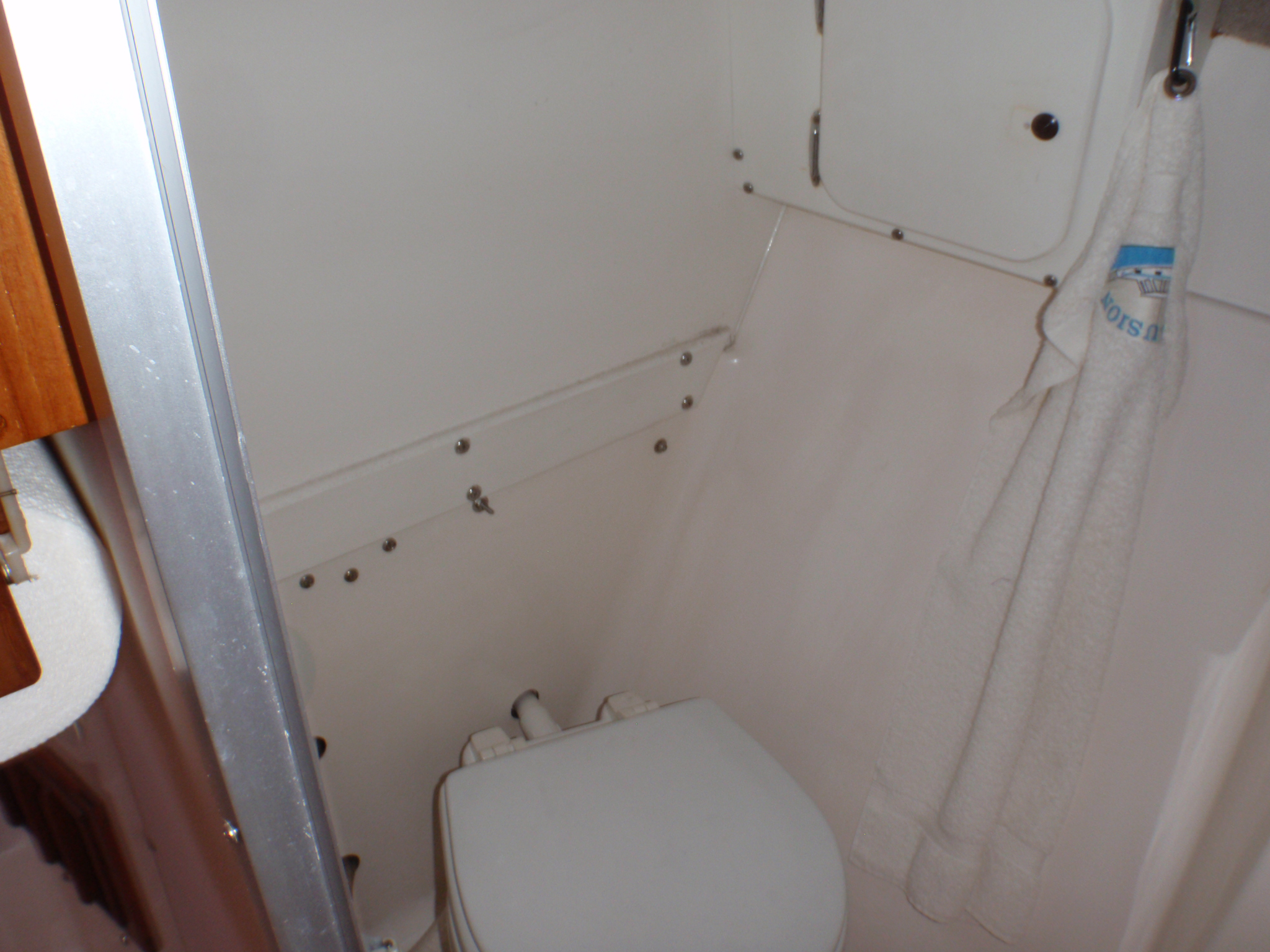 I modified the original Holding Tank system to include a Macerator Pump/Y-Valve to allow off-shore pump outs.
The V-Berth is quite a good size.
Compared to some of the other full-size cabin "Lobster" style boats in this size, the Galley is a bit small, actually very small. Mostly just used for food prep. Any real cooking would be done on a gas grill on the back deck. That helps to keep the down-below area cool and keeps cooking smoke from entering the cabin.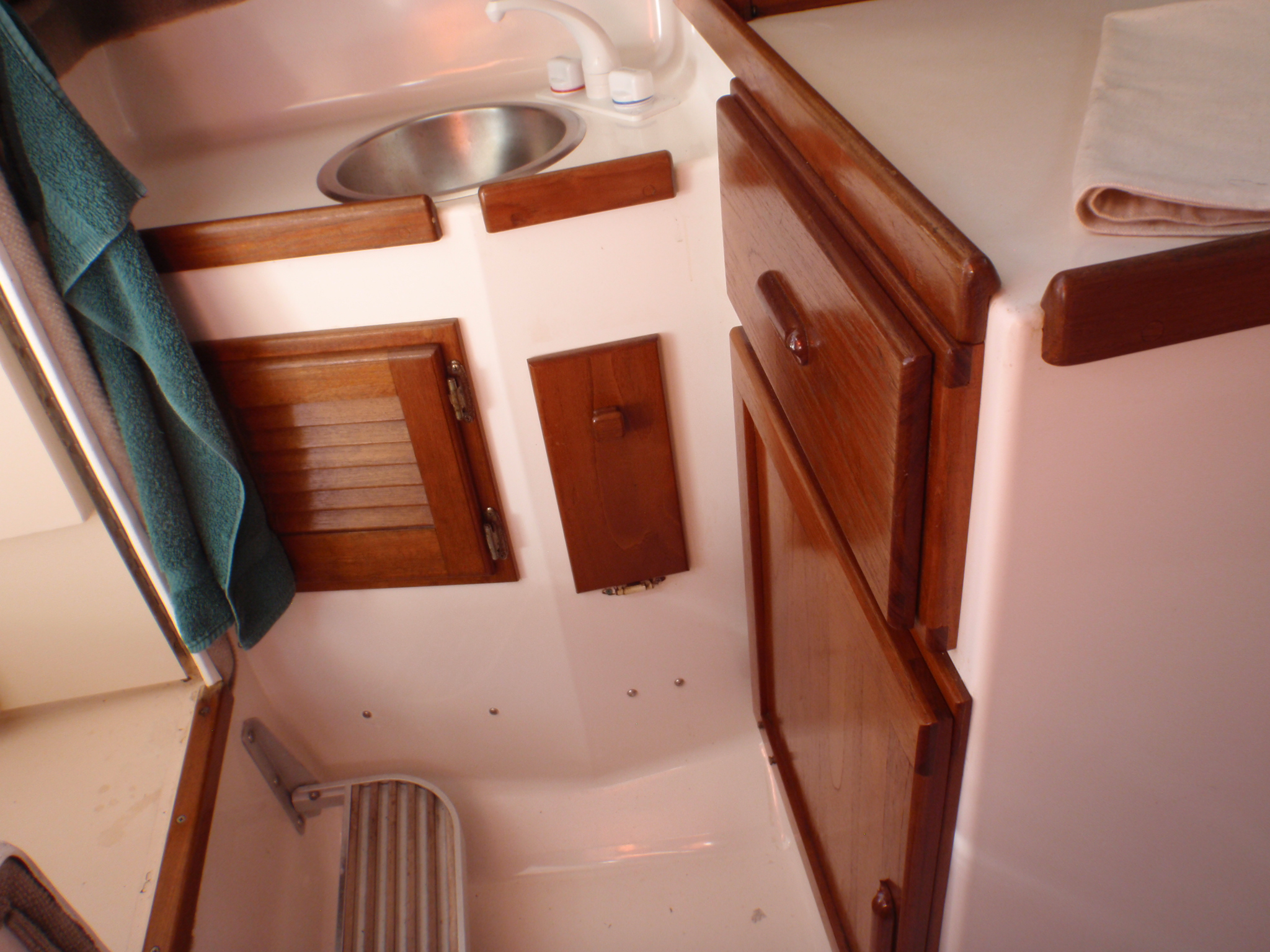 Shown are just some of the drawers/cabinets in the boat. Tons of storage.

The small door below the sink is for knives and forks and the large door under the counter is for a huge Igloo cooler that slides out.
More drawers and storage under the V-Berths. There are removeable panels under the beds for more storage.



This is the main electrical panel for both the 110 VAC and 12 VDC power systems.

I removed the acorn nuts on the center windshield along with the opening bracket. Now, with the help of a square dowel rod, we can open the center window almost so itís horizontal. Lots more air flow.

I added too large Kyocera 140 solar panels and a above dash controller with read-outs. Added a 20 amp dual battery ProMariner charger. The boat came with the sink faucet shower in the Head, but also already had an aft deck shower which is the one that we use. I also added at the rear of the side deck, a normal fresh water hose faucet for wash downs, etc. I redid the design of the Holding Tank and pump out. The system was set up for the option of the toilet pumping directly out of the hull bottom. The former owner did a ton of long distance traveling in the boat. The Holding Tank was set up for dock pump out only. I redid it with a macerator so that the Holding Tank, itself, could be pumped out under the boat (way off-shore if we ever to that) or at the dock. No directly pump out now for the toilet. I added two very bright, CREE six LED spot lights to the upper edge of the front facing cabin roof. Normally not used at night but this past July 4th, we used them to find our local unlit markers coming home. We had the boat up last summer for bottom paint. It had ablative paint when we bought the boat but we had that all taken off, a epoxy barrier coat applied and two coats of Petit Trinidad hard paint applied. Petunia is normally kept on our dock boat-lift. It has an existing autopilot which comes in handy. Push the button and it holds the existing course. Bob...
Bradenton, FL


View our Atlas Acadia Specifications/Features:
(Use your Back Button to Come Back to this Area)

Back to our Home Page:
(Use your Back Button to Come Back to this Area)