Bob's Boats Owned & Restored
Over the Past 50 Years...

'67-'68 1962 20' Celebrity cold-molded wood sloop
First boat, total rebuild to this cold-molded (delaminated) wood boat. Epoxy, varnish, paint.

'68-72 1926 28' Long Island Sound Interclub wood sloop
Classic wood racing sloop from the 20's. Overall good shape. Continual painting, varnishing, caulking. Sailed her summer and winter, hard.


'74-'78 1978 18' Sol-Cat Catamaran
Hot racing cat (beat Hobie 16's all the time), mostly fiberglass and rigging maintenance.





'77-'78 1965 26' Contest (Dutch) FG sloop
Total rebuild. FG work, deck/cockpit cores, epoxied/varnished wood mast, wiring.

'78-'79 1975 26' Hunter FG sloop
Normal FG maintenance. Lots of Chrysler OB maintained (caught on fire!)

'79-'82 1968 30' Alberg 30 FG sloop
Faded gel-coat restoration, teak refinishing, wiring, Atomic-4 engine rebuild.

'82-'84 1956 22' Chris-Craft varnished wood runabout
Total restoration, replaced wood planking, varnish, chrome, Hercules engine rebuild, upholstery.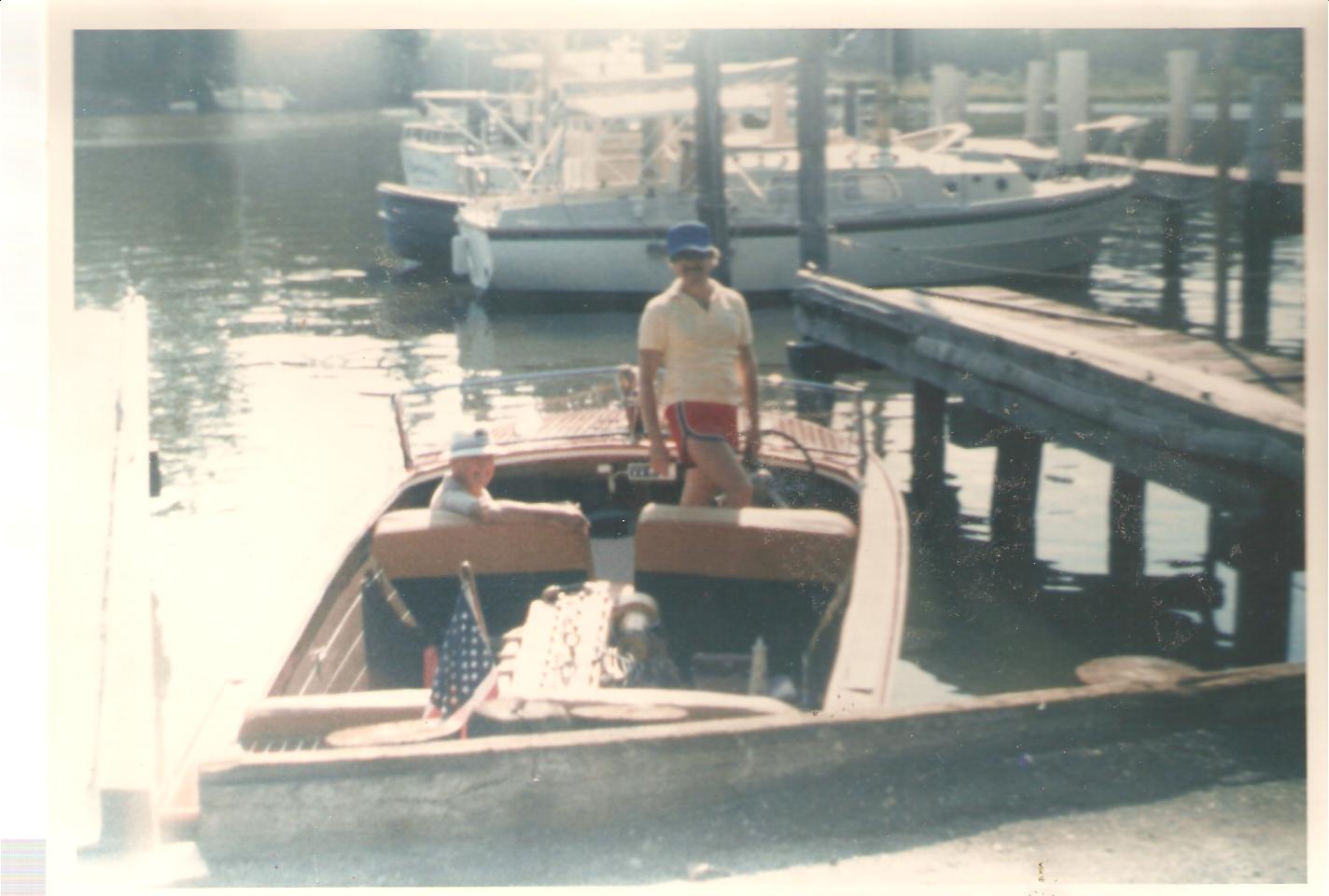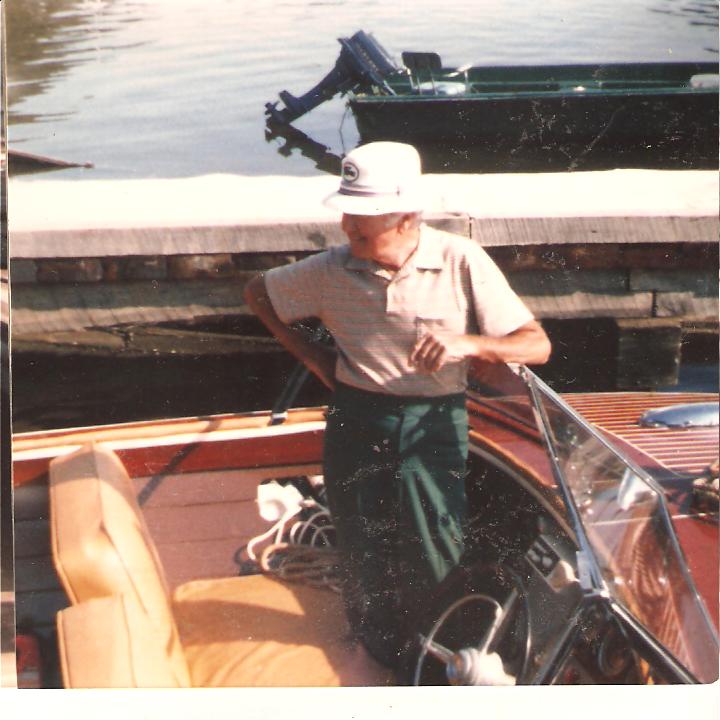 '82-'84 1976 28' Wellcraft Nova FG powerboat
Normal FG maintenance, twin 350 engine rebuild.

'82-'92 1976 28' Morgan Out-Islander FG sloop
Purchased this boat at an auction for $25. Burnt out hull, no decks, engine, wiring, interior, etc. 4 year rebuild in a custom design including all systems including installing new diesel engine. Great full-keel motorsailer after rebuild. Lots of Chesapeake cruising.


'83-'85 1952 16' Lyman Lapstrake Runabout
Epoxied the entire boat, inside and out, after a complete stripping of old paint/varnish to seal the lapstrake planks. Repowered with a great Mariner 40 HP 2-cycle outboard. A perfect engine size for this boat.


'83-'85 1953 42' Matthews wood powerboat
Good shape, mostly paint/varnish restoration. Rewired entire boat to survey standards. A very classic "ship". Twin Chrysler 318 engines would almost get this boat up on a plane, way over the original design speed.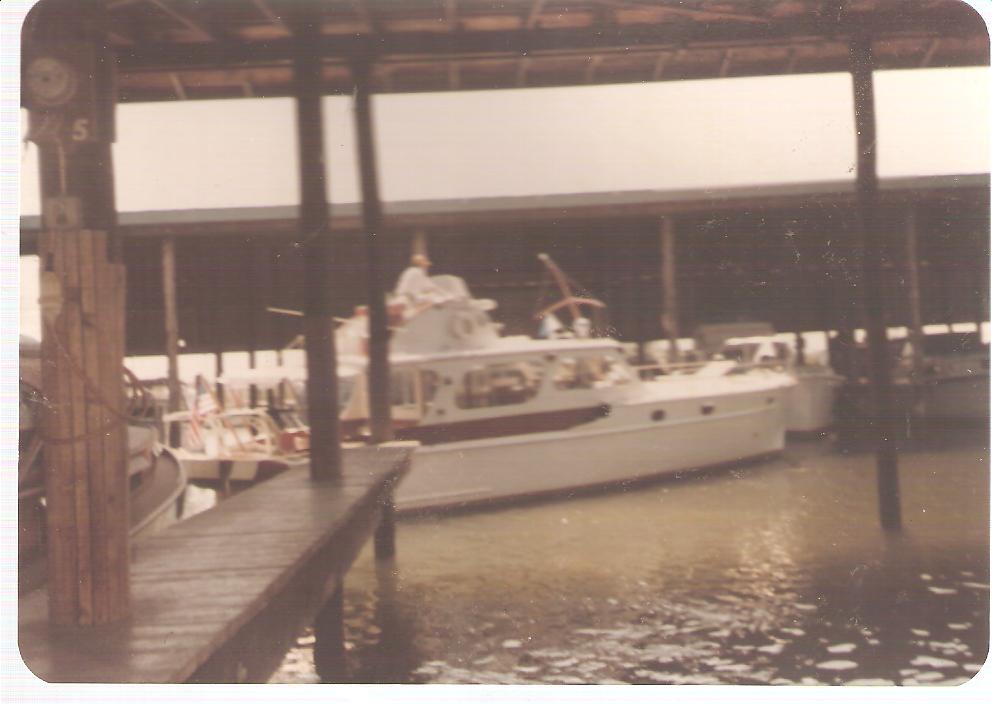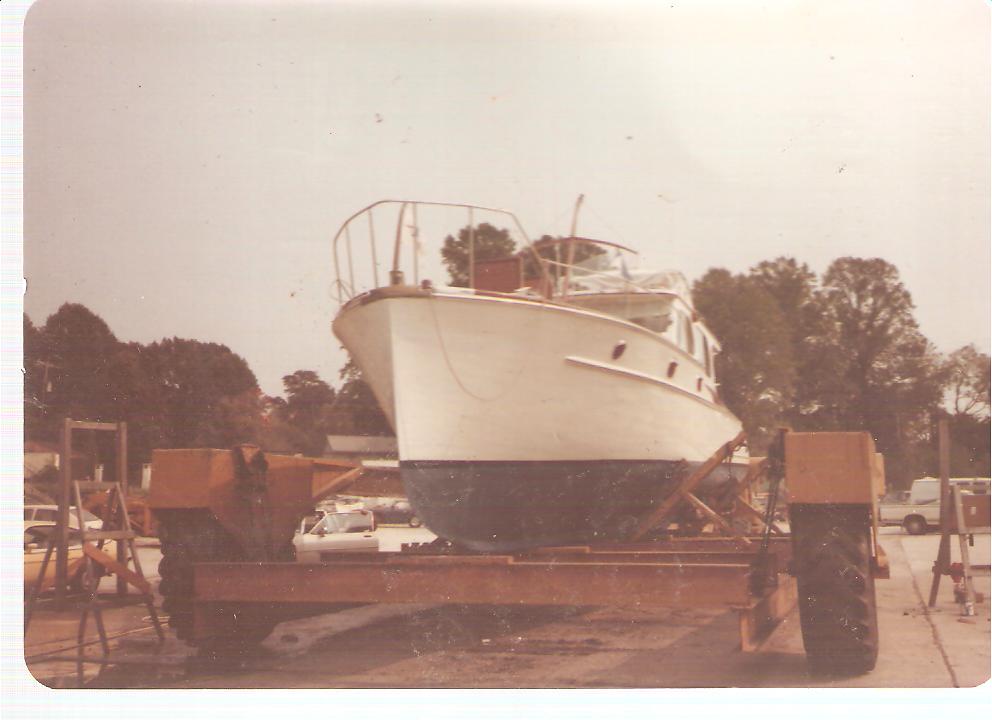 '82-'86 1978 25' Kaufmann & Ladd One-Design Racing sloop
Bought at auction for $35. One-off/One-design racing sloop built for dry-sailed racing only. It had been kept in water so bottom was rotted. Replaced entire bottom (flipped this lightweight boat upside-down). Fiberglassed entire bottom for in-water storage. Competitive racer.



'92-'94 1951 30' Matthews wood powerboat
My second Matthews. Smaller than the first. Single Chrysler 318. Completely refinished it, inside and out.



'79-'99 1962 16' Whitholz Wood Catboat
Bought from an old boatyard where it had been sitting for years. Complete restoration, in and out. Lots of varnished wood on this great boat.

Actually sailed quite well. With the huge iron centerboard and equally huge barn door rudder, it would track in a straight line and balance quite well.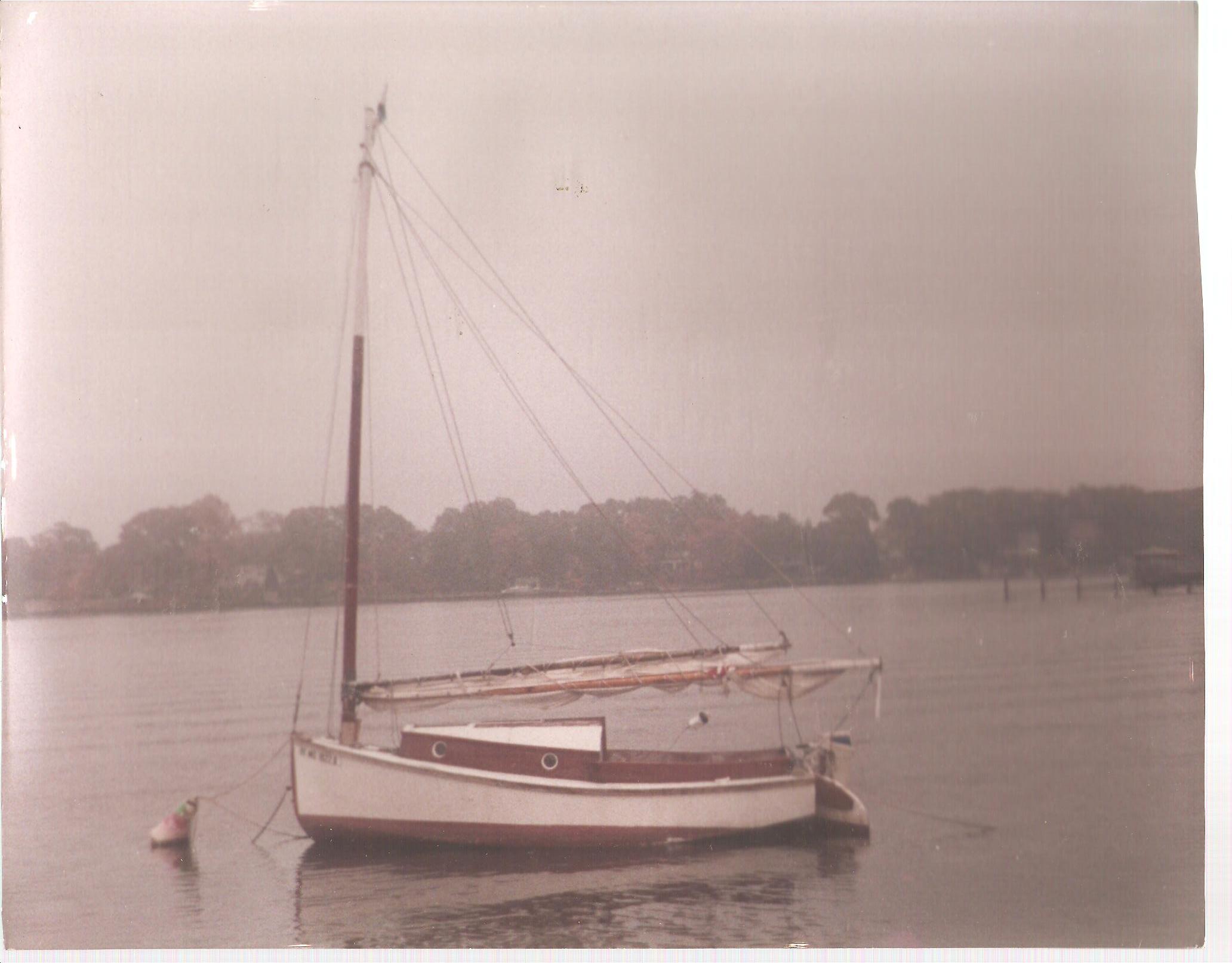 '99-'03 2001 22' Custom "1890's" style FG River Launch
Built this boat from an old FG sailboat hull. Looked like an old canopy steam launch. Lots of woodwork, details and even a steam whistle powered by a compressed air tank. (Used an inexpensive "slide whistle" inside of a copper colored PVC pipe). Powered by a Nissan 9.9 OB.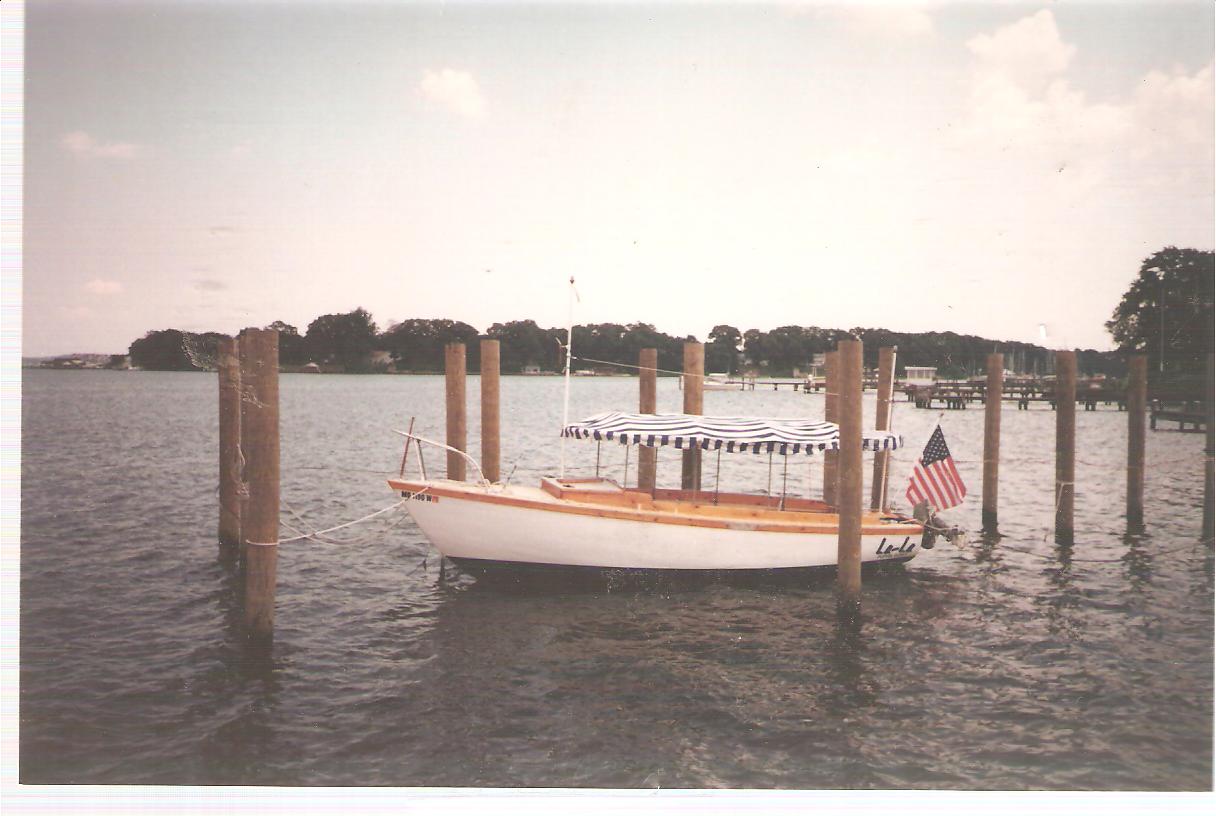 '99-'03 1978 30' Oceanic Catamaran
Complete rebuild/refit on this Bill O'Brien cruising cat. Replaced all decks (ply was rotten), built new epoxy/laminated ply bow crossbeam, installed new electrical system including massive solar panels with all new wiring, circuits, etc.

Removed original heavy twin diesel engines and replaced with single 40 HP outboard. Installed all new steering system. Great, roomy sailer. Removed the lightweight front spar and replaced it with a laminated plywood, thick very solid spar. No bending! Added lots of structural beams/bulkheads to stiffen up the original design.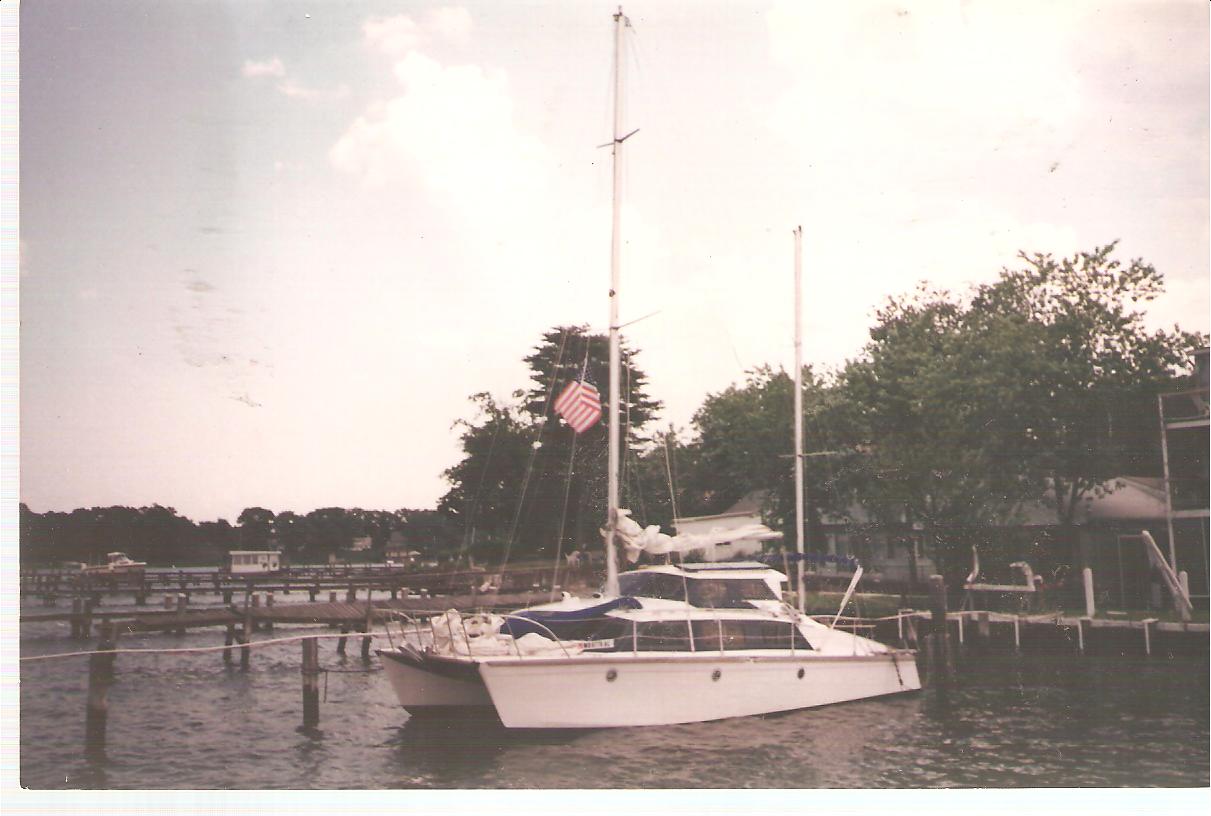 '01-'03 1978 26' Soling FG racing sloop
Extremely fast, tender racing thoroughbred. Purchased to teach sailing. Spray painted hull, decks, re-rigged, installed new wiring, bilge pump, batteries, solar panel.

'04-'05 2003 18' Solar Powered Electric FG catamaran
Unique electric catamaran with two beach seats, bimini, four 50 watt solar panels, two deep-cycle 100 amp/hr batteries and electric trolling motor. Great Florida cruising beach boat.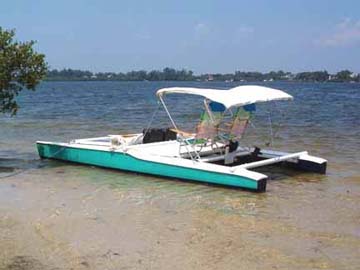 '02-Present 1975 8' Dyer Dhow dinghy sailboat
Wonderful sailer and tender for my 40' trawler. Refitted new oak rubrail and 2" manila rubrail padding, refinished all teak and wood mast/boom, repainted. These small boats are perfect for tenders to any size boat. Very stable and can carry lots of gear. Rows perfectly and it stiffens up just before the rail gets close to the water when sailing.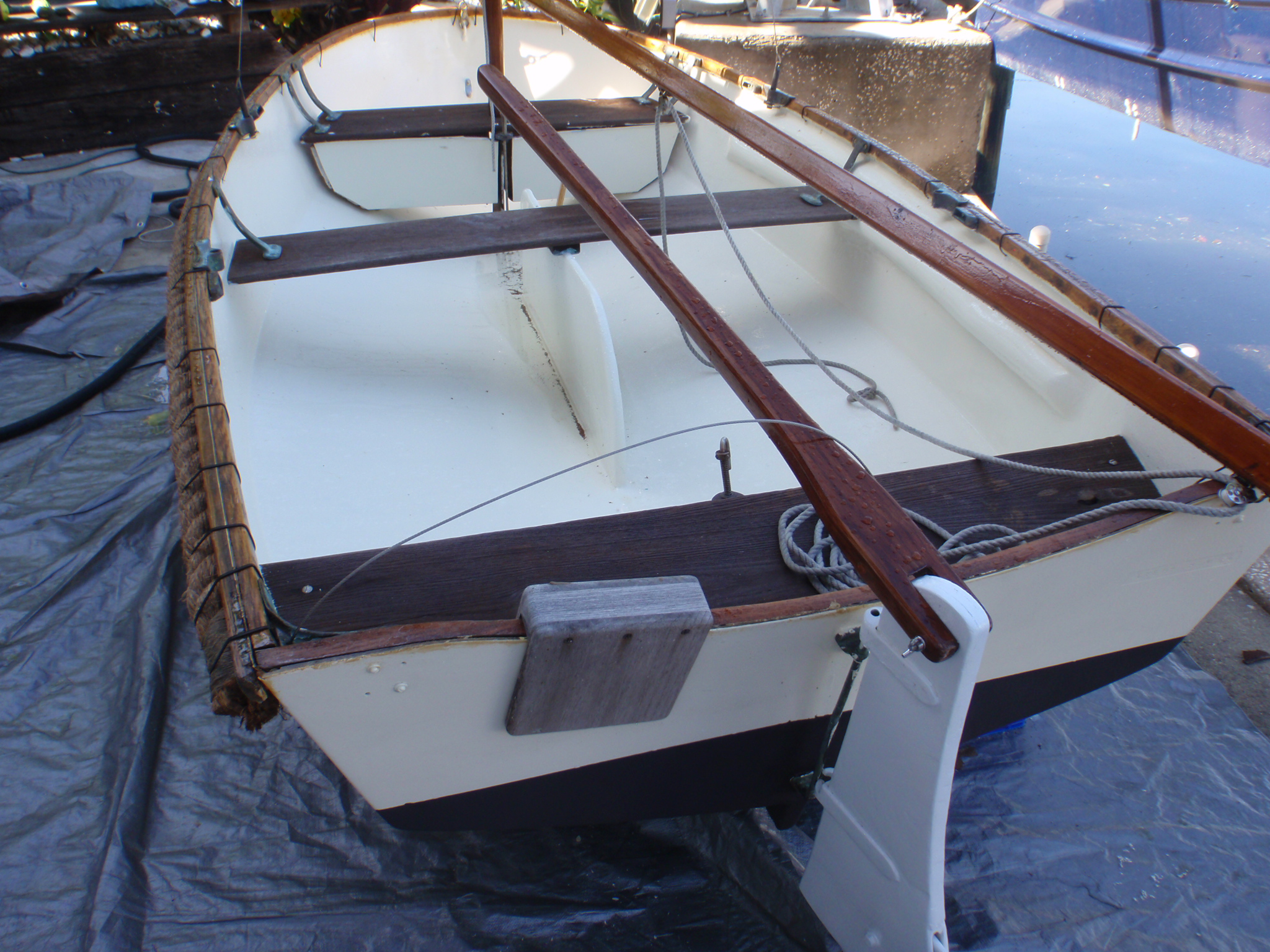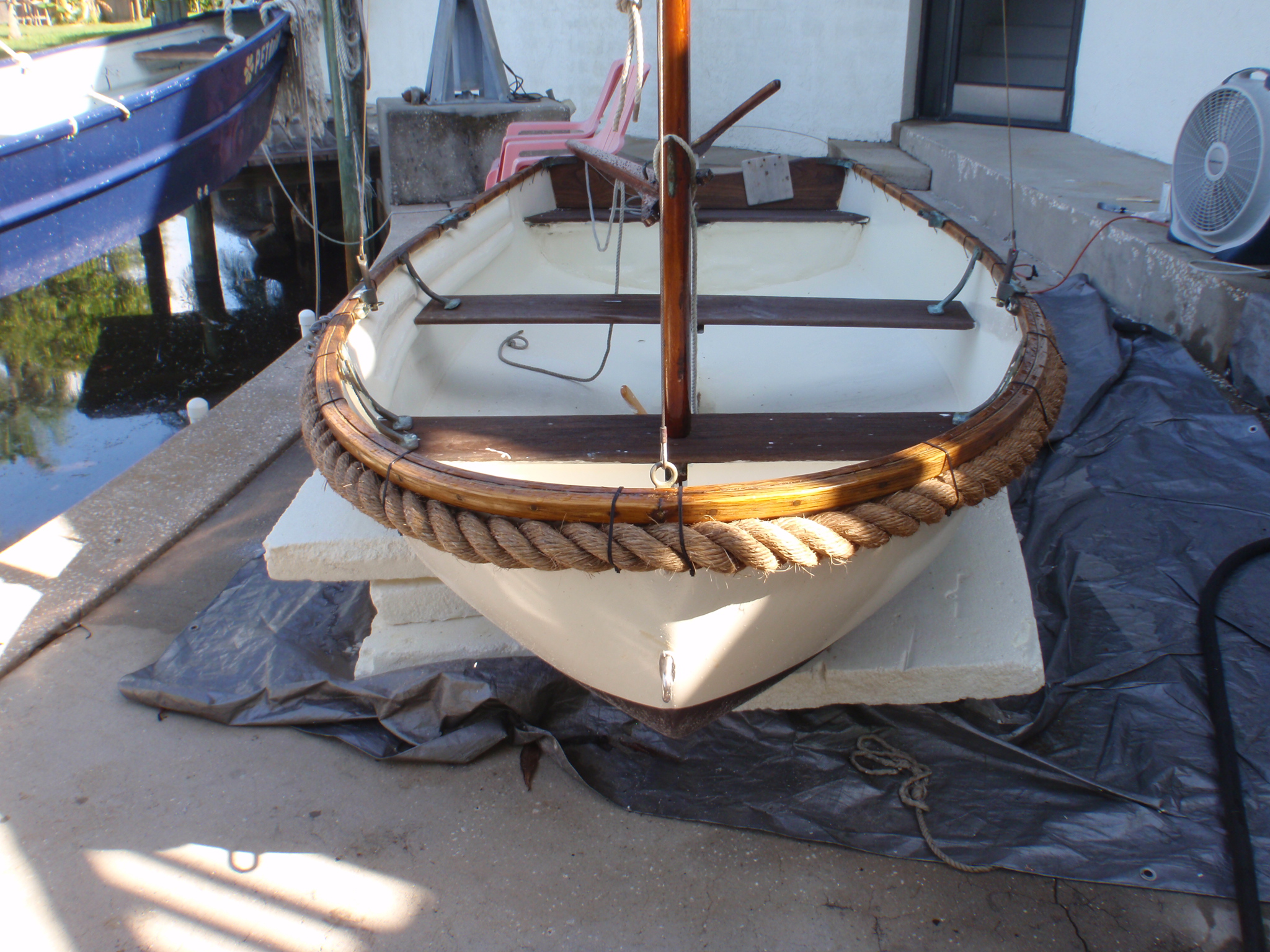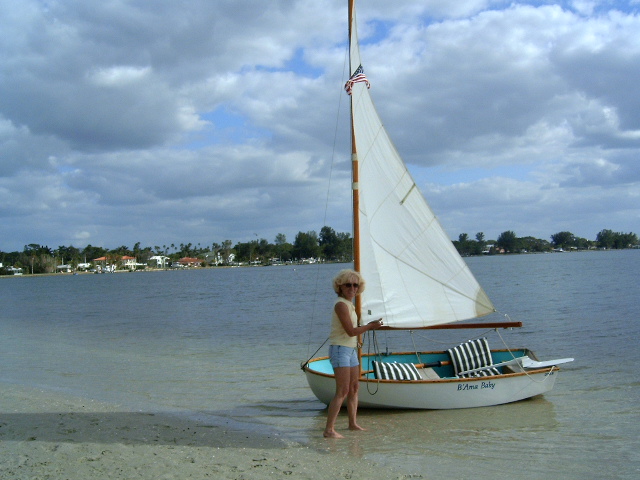 2006-2015 1976 40' Marine Trader FG trawler
Large-scale project boat. Boat sat for 12 years. Typical Taiwan trawler deck/cabin rot. Replacing all decks, wiring, plumbing, exhaust, steering, etc. Total refit and rebuild on-going. Most every system is being replaced or rebuilt.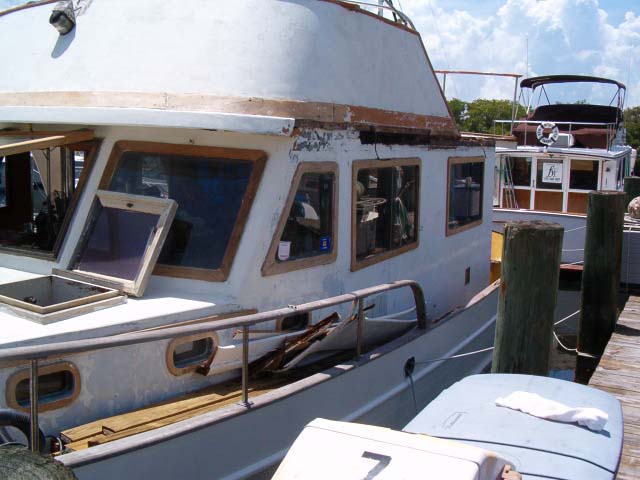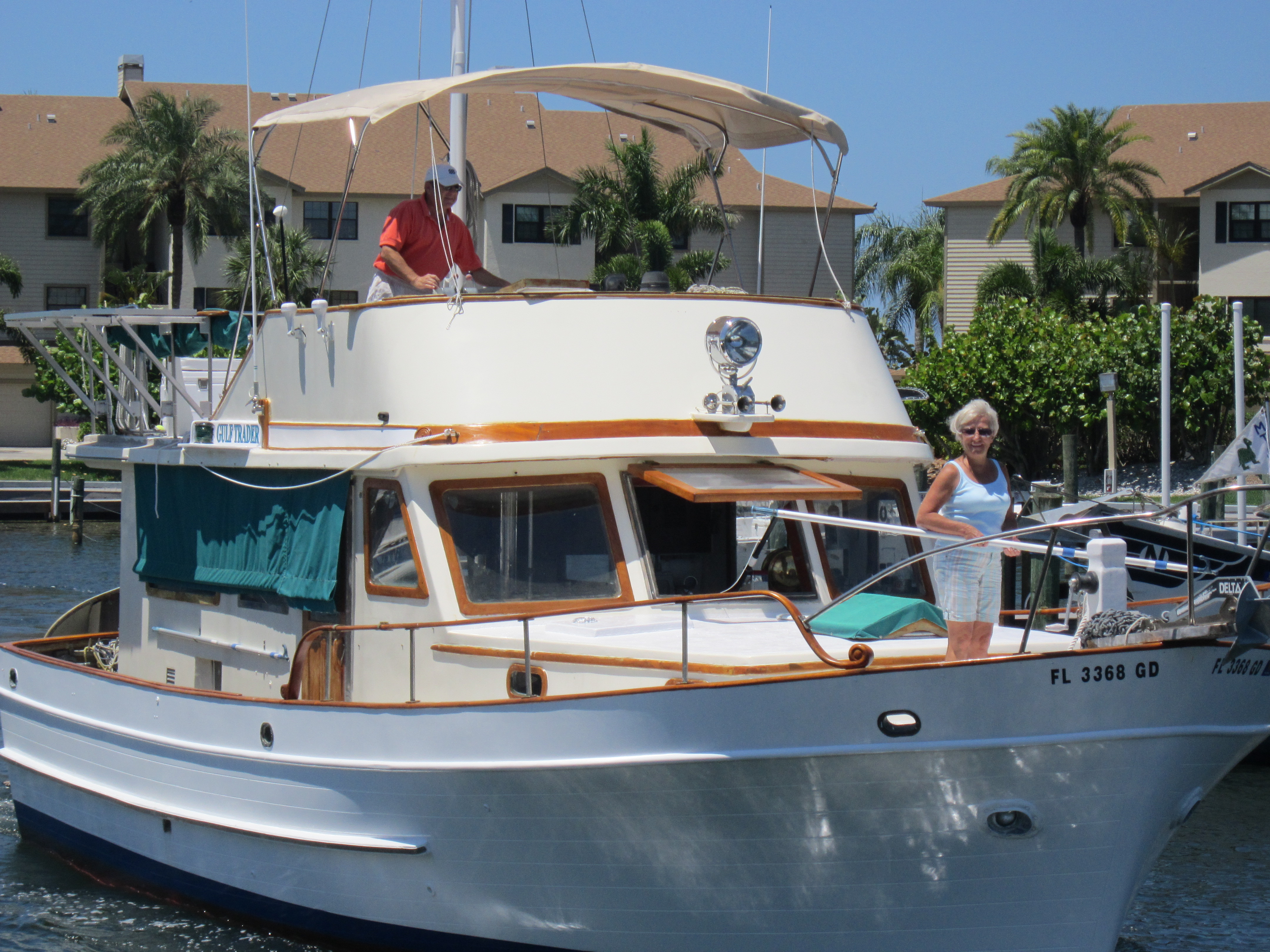 '12-'14 1973 16' CeeBee Avenger
This little hot-rod of a boat was quite a change from our usual slow, river launch style boats for local cruising. With its "tower of power", straight six (vertical) cylinder Mercury outboard engine, this tiny, low to the water boat would do 45 MPH!. And all the while gulping gas quickly from its two six gallon gas tanks.

It didn't need much work, just a new spray job on the vinyl seats and some clean up. Not very good for our local slow canal cruising so it went to a better home and we went back to more sedate boats.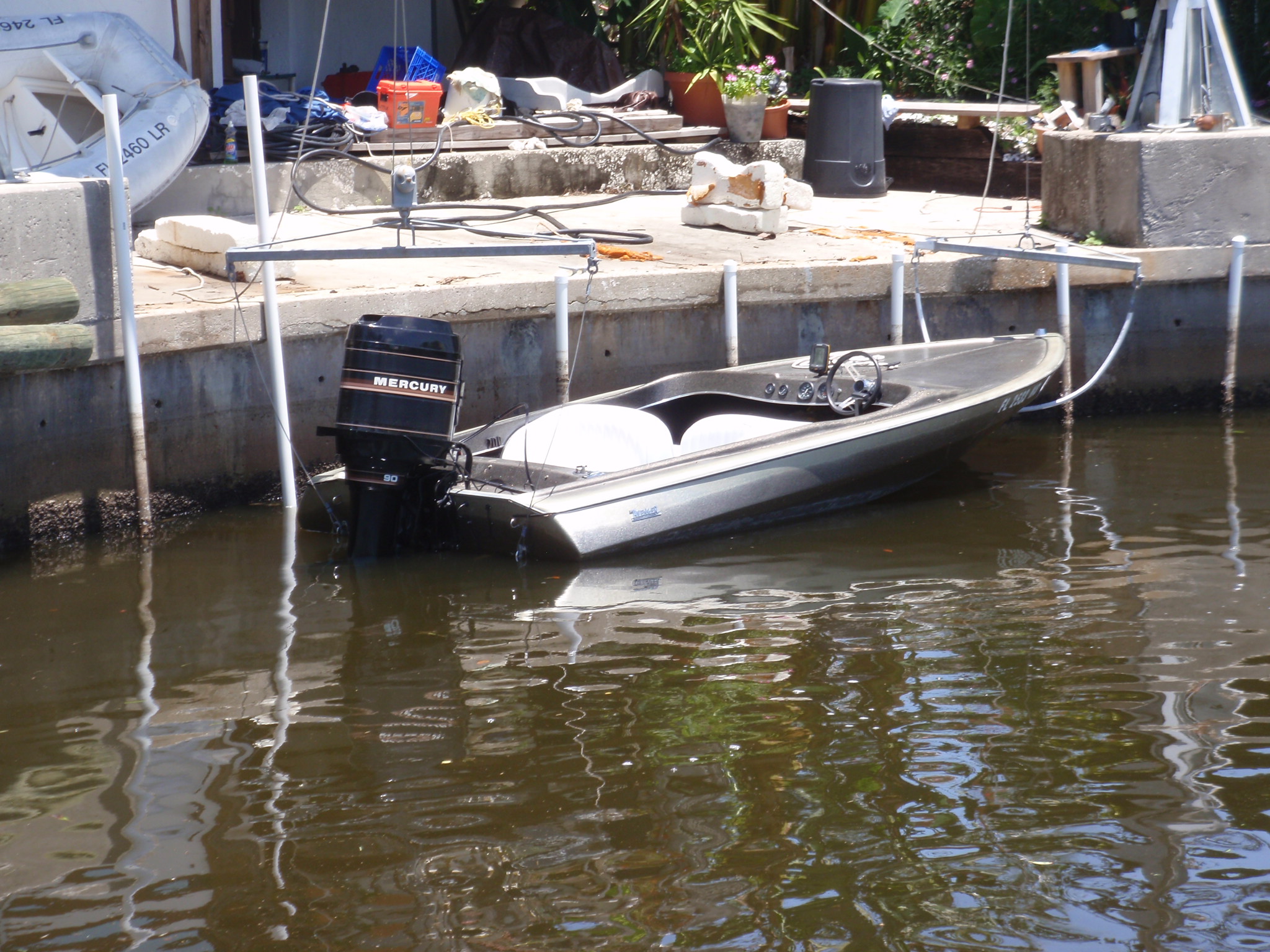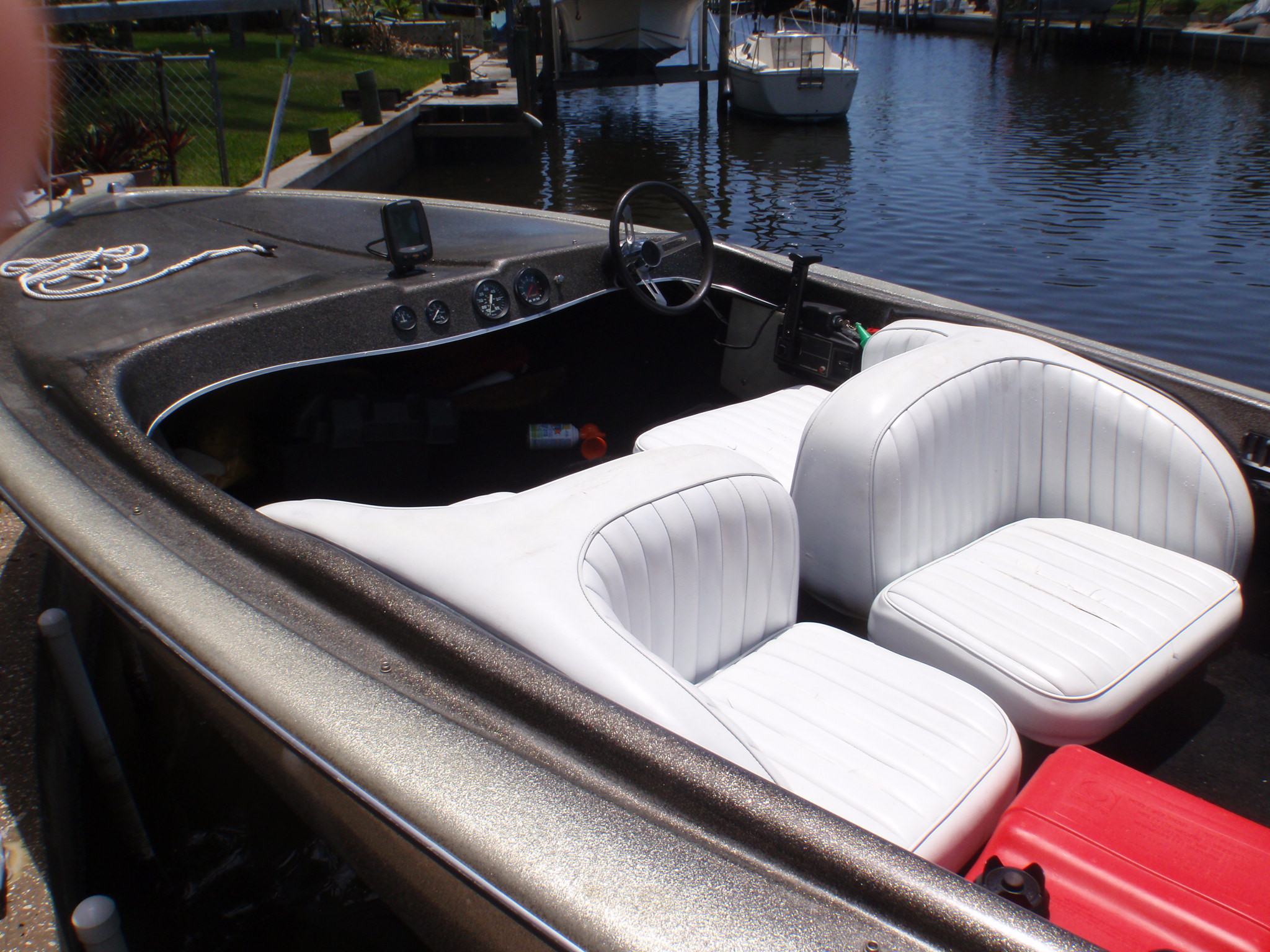 '12-'15 1952 14' Aluminum Row Boat Launch (The first "Petunia")
This nice little aluminum rowboat was the first "Petunia". It's a 1952, very solid, flat bottome, riveted boat, a long 14' with three wooden seats. I used 3M 5200 on every rivet since there were a few leaks.

We had a ball cruising the local canals here using our old MotorGuide (no electronics!) 54 pound thrust 12 volt trolling motor and a deep cycle G-27 marine battery. We cruised mostly at full speed and could easily stay out for 2-3 hours. As shown in the pictures, we added some character to the boat in the form of flags and especially the "tugboat beard" on the bow. This was just a bunch of old rope that I uncurled and mounted to the bow. Unfortunately, we had a couple of comments from shore while cruising that we had a "mop" hanging off the front of our boat. A real fun boat. Drinks and snacks on the center seat with our lounge cushions set against the hull sides for sitting.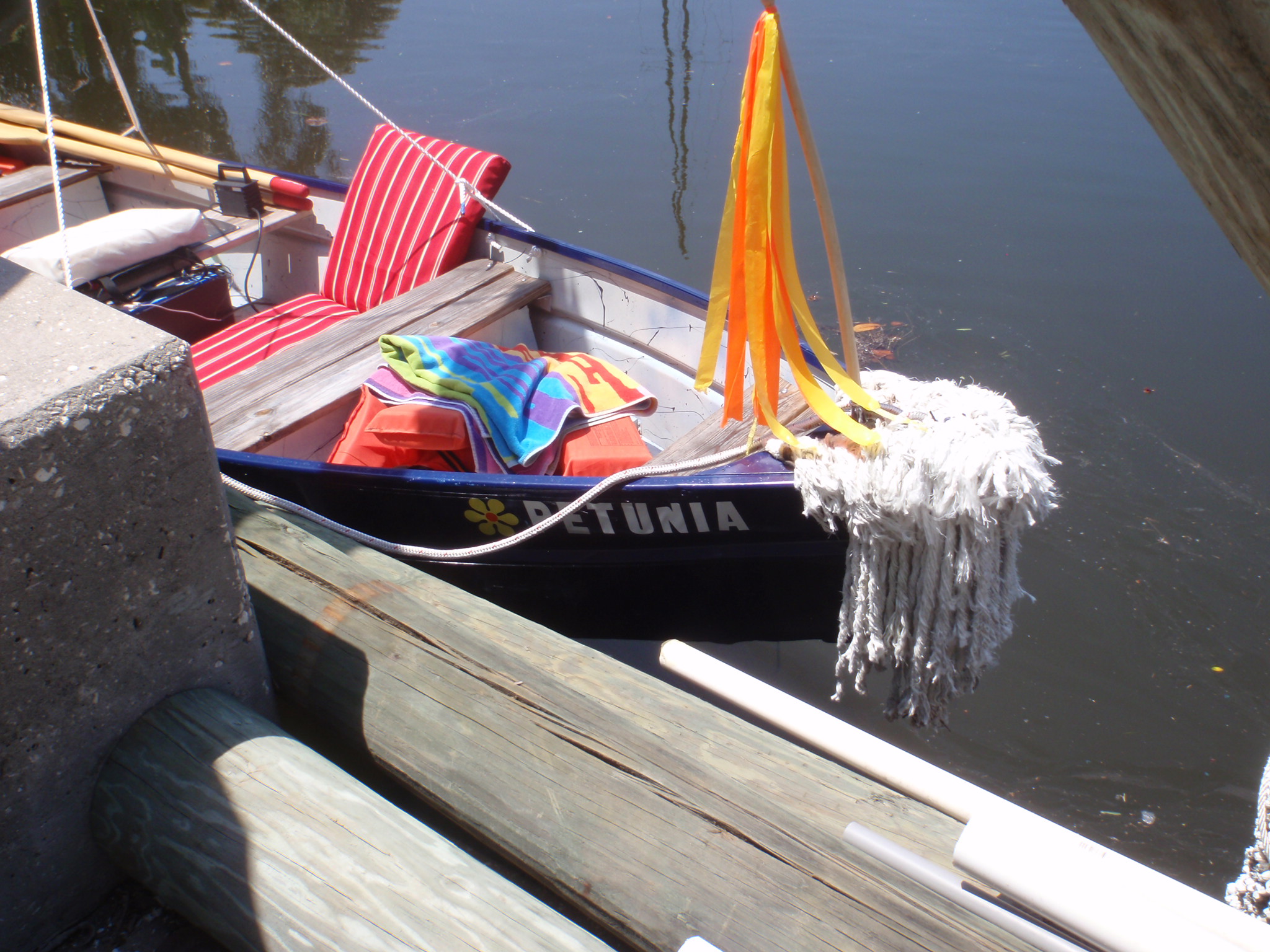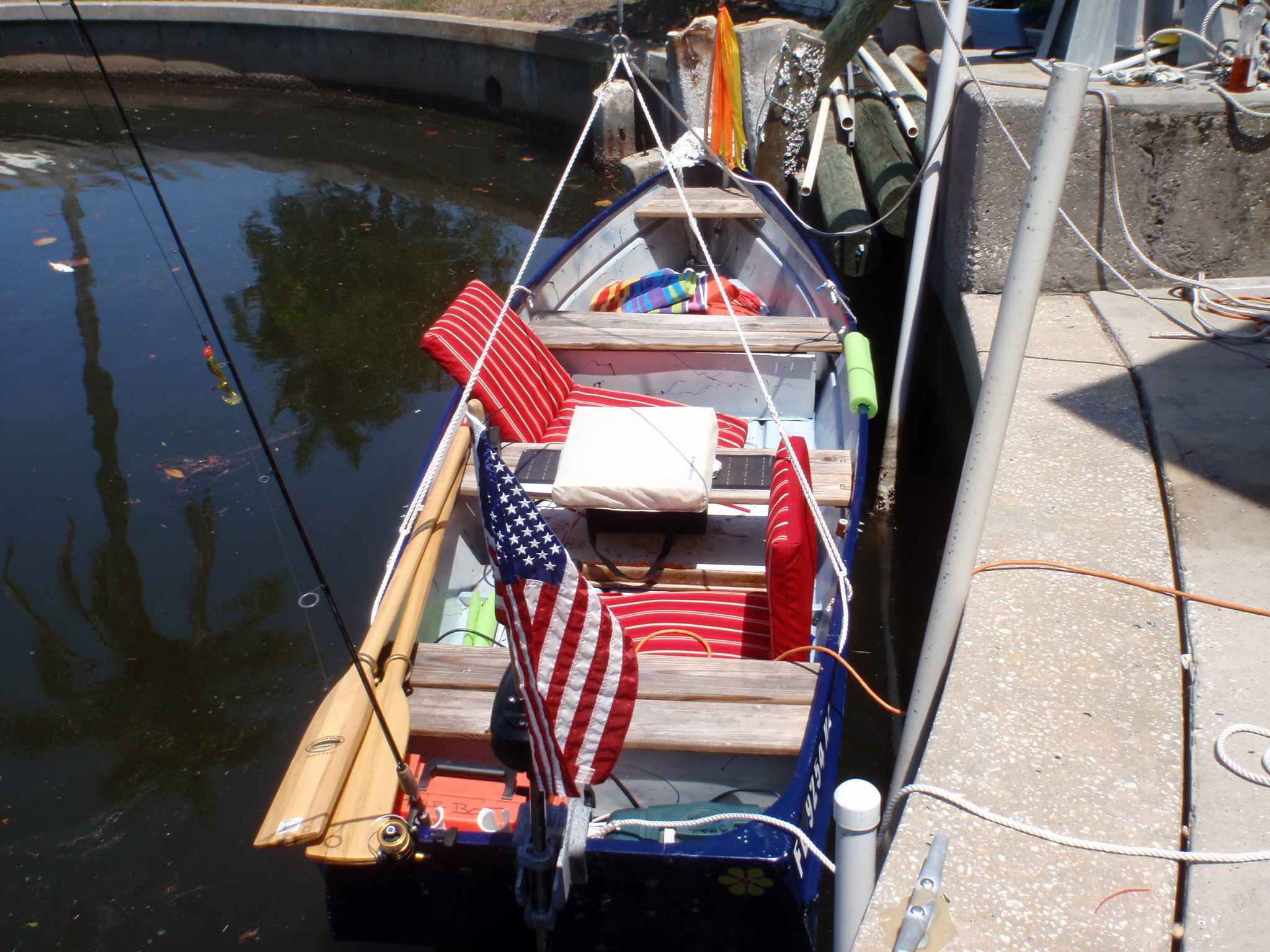 2013-2015 2013 16' Custom made River Launch ("Petunia II")
See our first page of our website for lots more details on this custom made (by Vickie and me), 16' lapstrake river launch. "A Work of Art", if I may say so. Lots and lots of detail in this boat.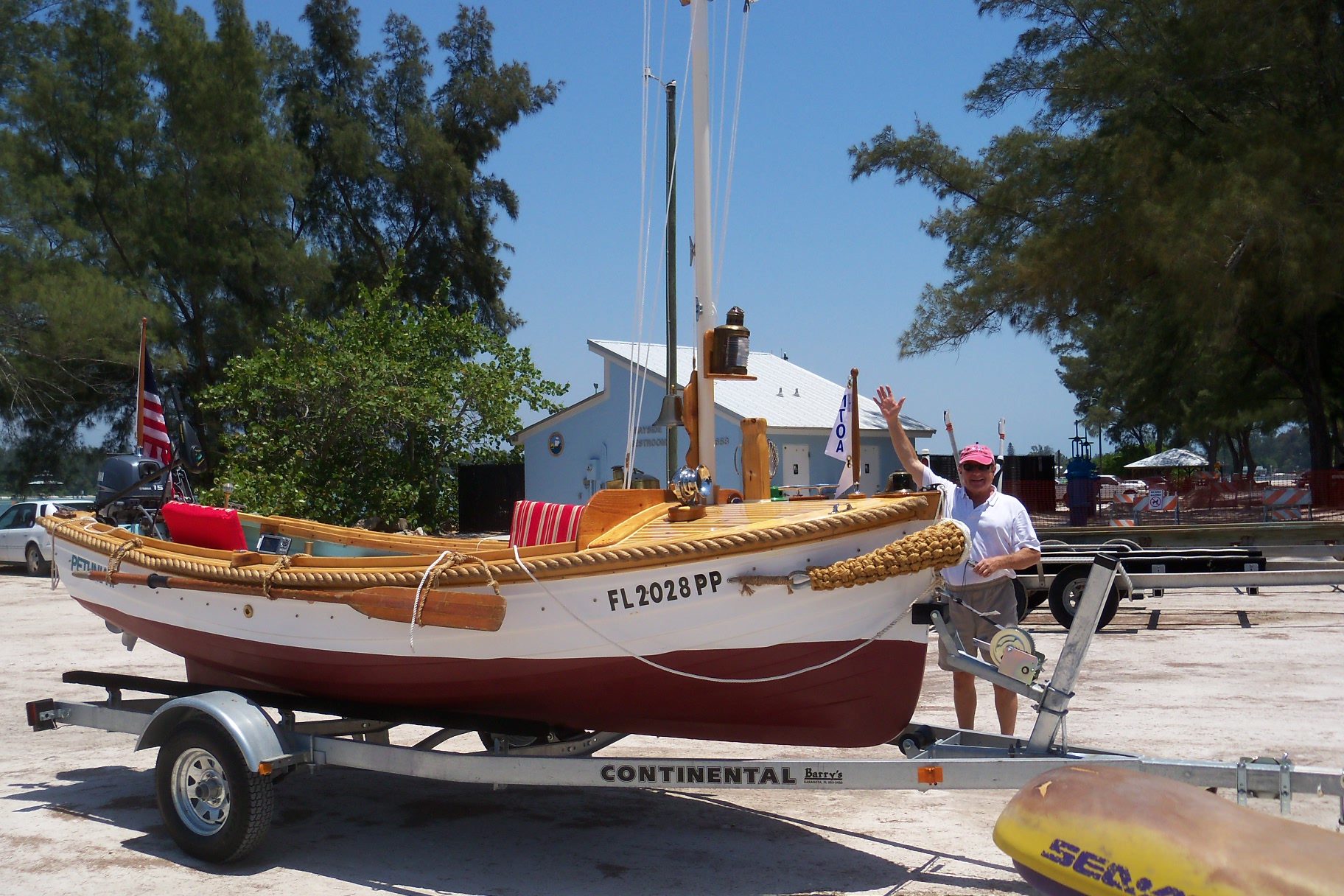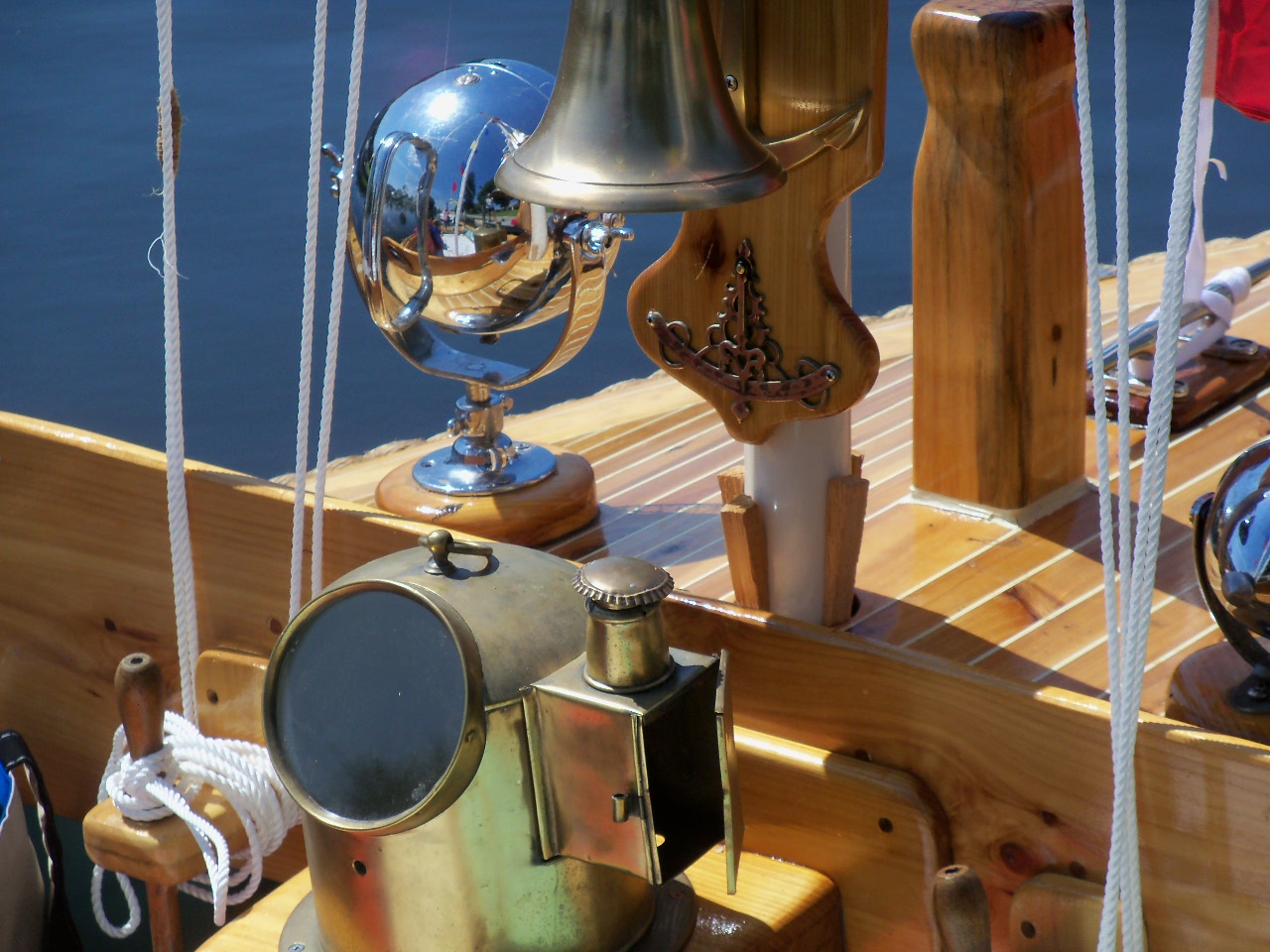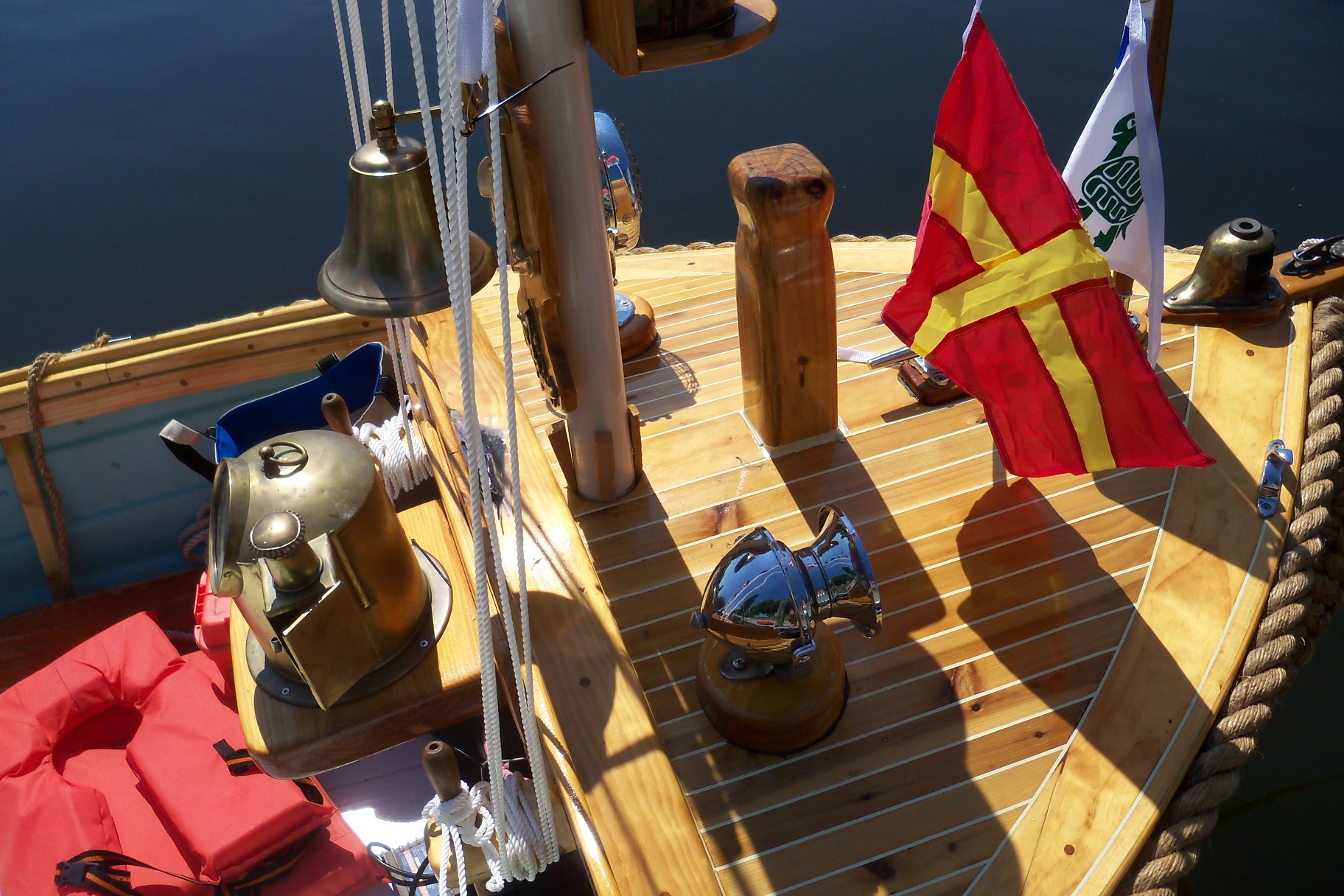 '14-Present 1999 25' Atlas Acadia ("Petunia")
See our description on the first page of our website. Lots of details on this great, solid, seaworthy boat.

Back to our Home Page:
(Use your Back Button to Come Back to this Area)