Email:

Robert Mulligan-Owner
Photontek@aol.com

"Buttercup" is now for sale. $19,000 Reduced: $18,000

I just added a 3-10-21 YouTube video of her but please read the ad text before linking over...

"Buttercup Video"


https://www.youtube.com/watch?v=iyZpOV5UfcE

Builder: Ranger Tug/Fluid Motion, Kent, Washington Approximate "Loaded" Weight: 3500 Pounds
Length: 21'
Beam: 6.5'
Draft: 2'
Capacity: 8 Persons/1400 Pounds
"Buttercup" is a fiberglass 2001 Ranger Tug (Fluid Motion-Kent, Washington) "Martini" open river launch.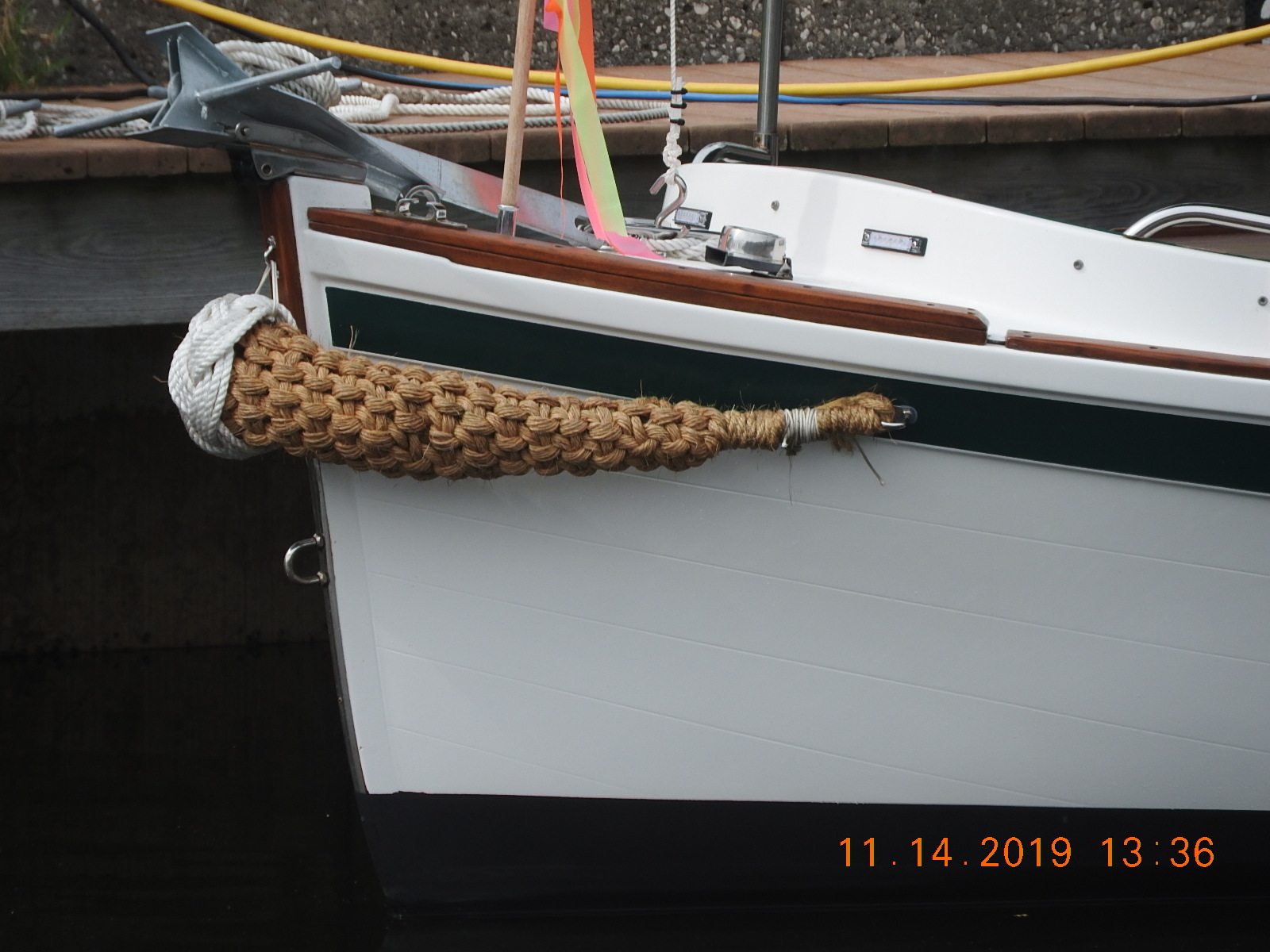 21' feet long, she was built on the hull of the original Ranger Tug 21. Very sturdy and not a "toy-boat".

Many of these were powered by electric motors. "Buttercup" is powered by a very dependable two cylinder Yanmar diesel engine. (2GM20F). No electronics with this dependable engine. The advantage of the diesel over the electric motor drive is that you don't have to plug it in after each cruise and you don't have to replace the expensive batteries after a couple years.



The Yanmar engine is almost as quiet as the electric version and sips fuel. The insulated motor cover box/pilot seat really keeps the diesel sound low. Easy for chatting with your crew.

The 20 HP engine powers her up to about five to six knots but for canal cruising, three to four is the norm. A full keel to protect the prop and rudder and she is a semi-displacement hull design.



She has a seating capacity for eight with wrap-around seating at the bow and a large seat, aft.

I've owned her for over two years, bought her off of an eBay ad where the seller stated that she was in perfect shape. Nope, she needed refreshing in most every area. See the list below. I had Rick Myrick, the local Yanmar rep, do a full service on her engine in August, 2019 which included the following: -Replaced one bad Injector/cleaned the other.
-Impeller.
-V-Belts (2).
-Cooling system flush.
-Change oil/filter. (Rotella 30 wt.)
-New Exhaust Elbow.
-Acid cleaned the Heat Exchanger.
-Change Transmission fluid. Then I went to work on her: -Added a new Racor 500FG Turbine Fuel/Water Separator.
-New Fuel Lines.
-New ProSport 2-Battery 20- amp Battery Charger.
-Two new Deep Cycle Group 27 Batteries/Cables/Terminals.
-New Trident Exhaust Tubing.
-Custom made "Manila Bow Pudding" (The Marlinespike Artist-R.I.)
-New Stuffing Box/Rubber Tubing and Shaft Coupler.
-Shower Outlet and Hose.
-Garmin "Echo" GPS/Sounder (in addition to the existing Garmin GPS/Sounder.
-New Rule 2000 "Gold" Bilge Pump, Flapper, Hose and SS Thru-Hull.
-New Rule 1100 Bilge Pump Flapper, Hose and SS Thru-Hull.
-New 12 Volt Electrical Panels. (Paneltronics and Custom).
-Added Blue (external) and White (internal) LED Lighting.
-New 110 volt Marinco covered electrical inlet/wiring.
-New Marinco 110 volt Shore Cable.
-New Aqua Signal LED Port/Starboard Nav. Lights.
-New Marine 6" Speakers.
-New sink Faucet.
-New 110 volt GFI Covered Electrical Outlet. The original small Group 25 Batteries were located under the engine cover which eliminated any observation of the Stuffing Box and Shaft. (No way to adjust the Stuffing Box). So I bought new Group 27 Deep-Cycle Batteries and moved them to the outside of the engine cover. New heavy cables and fittings. Also added a 12 volt Voltmeter to check the Battery voltages. The Yanmar engine is very easy to work on. Just flip the engine cover up, and there it is. Good for checking oil, trans and coolant levels as well as belts, etc. I just had her up on my boat-lift and refreshed the Bottom Paint. It's real Petit Trinidad heavy copper bottom paint. Three coats on the keel, bow and the running gear (Shaft, Rudder and Prop). Also just installed new Zincs, (Shaft End, Strut and Rudder). I have about an extra 1/3 gallon of the paint which will go with the boat. I just installed a new Kenwood AM-FM Radio and Antenna. I used "Buttercup" as a canal cruiser. Perfect for nice, quiet evening cruises with guests. She gets a tons of looks and waves wherever she goes. Also, she is not a "SeaRay" that you have to keep waxed and shiny. She is a river launch in the fashion of "The African Queen". Some faded accent paint but otherwise, a proud little ship. No need to get fussy with her.
She was the highlight of our two recent Christmas Boat Parades. (2019 and 2020, see the photos). Because the batteries are easy to get to, adding an Inverter to power Christmas lights is simple.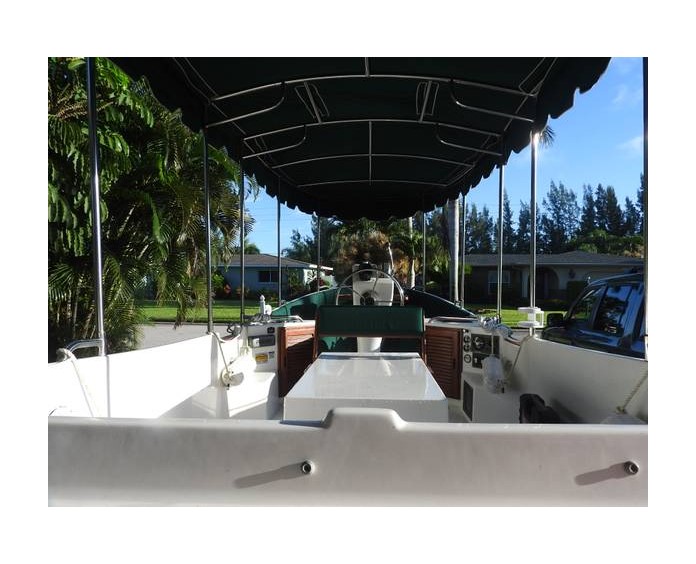 She sips diesel fuel, not at all like a gas outboard.

The Sunbrella seating and foam is in very good condition. Per the photos, there is a removable center bow teak table that slides downward to form a full bow width bed if you feel like camping out. A center cushion comes with the boat. The Sunbrella canopy cover is in good shape, but I've sewn it a couple times and it went through Tropical Storm Eta this past year without any damage. A couple more years of service before replacement.
A small SS sink is on the Port side along with a "Osculati Doccia" recessed Shower hose/nozzle.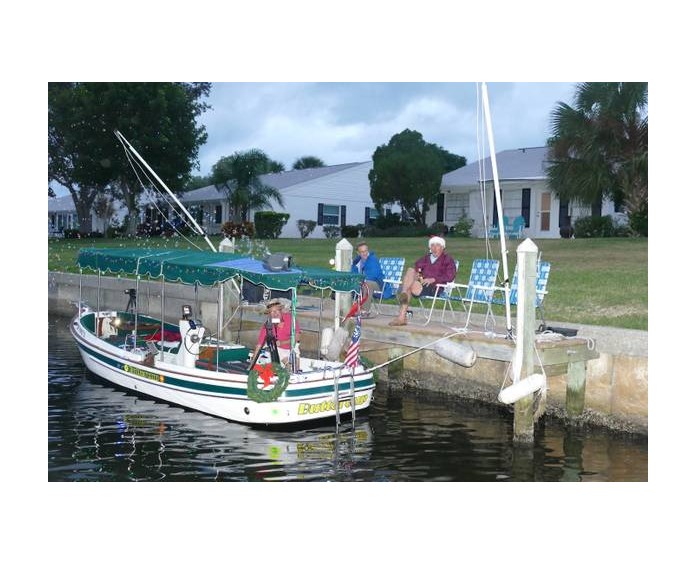 Includes a Compass, Anchor (and Chain, Rope), Anchor Bow Roller, Aft Flag & Staff, Bow streamer Staff, a complete set of Tools, four Life Jackets, Flares, Dock Lines, Two Bumpers, etc.

The Trailer is a heavy-duty galvanized "King", single axle trailer, custom made for the launch. I replaced the trailer Tongue, Trailer Jack and the Safety Chains.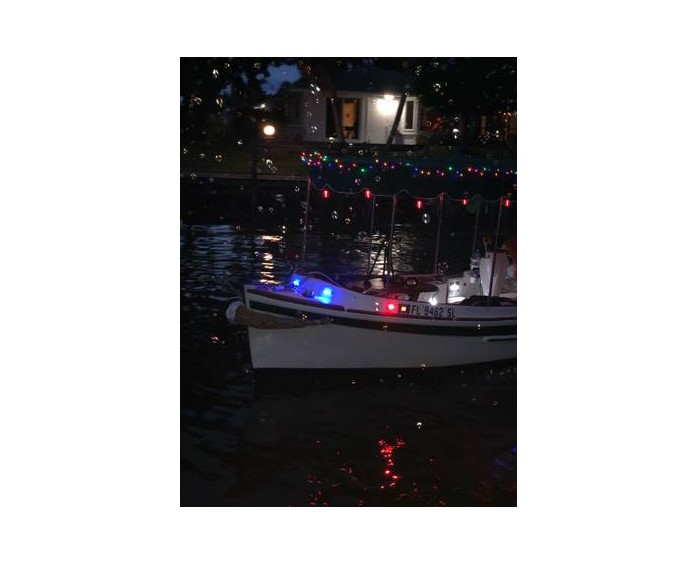 We have had quite a lot of fun on "Buttercup" over the past two years, cruising the local canals. No issues with her. As noted, a very sturdy little ship.



"Buttercup" is now back in the water behind my home so you can hear the engine and a short cruise up the canal and back. No "Joy-Rides" with pals, please. Serious Inquires Only. If you show up with a bunch of people, you can head back home.

Price: $19,000, Firm (Including the Trailer) REDUCED 3-18-21: $18,000 (Moving...)
Located: West Bradenton off of Cortez close to the Beaches.
Contact: Bob/Owner
Contact me by Email: (Photontek@aol.com) and I'll email my phone number...

Email:

Robert Mulligan-Owner
Photontek@aol.com
Back to our Home Page:
(Use your Back Button to Come Back to this Area)