Quiet-Craft Yachts
P.O. Box 34280
Bradenton, FL 34280
Phone: 941-795-5225

Classic River Launches from the late 1800's
Below are Thumbnails of the construction of this boat. Building began in April, 2005 with the stripping of a fiberglass hull from a 20' Helson centerboard sailboat. This hull was a good donor since it was solid fiberglass, not cored. We removed the decks, cockpit, floors and the centerboard well back to the hull "bathtub".
We hope that you enjoy the construction and the results.
Please feel free to email with your inquiries or questions.
Best Regards,
Robert Mulligan


20' fiberglass yacht with epoxy coated pine and fir trim. It is powered either by a 9.8 HP Gasoline outboard and/or an Electric Trolling motor powered with Batteries. (Use your Back Button to Come Back to this Area)


Shown is the original fiberglass sailboat that was used as the donor hull.
(Use your Back Button to Come Back to this Area)

The original "donor" vessel was a solid (no-core) fiberglass Helson centerboard sloop. The boat was stripped down to its bare "bathtub" and the new epoxy coated wood decks and cabin were added.
(Use your Back Button to Come Back to this Area)

Shown is the original fiberglass transom. Compare to the beautiful epoxy/varnish covered mahagony transom in photo shown below.
(Use your Back Button to Come Back to this Area)

Side view of the original boat.
(Use your Back Button to Come Back to this Area)

Hull is stripped back to the bare "bathtub" and the new framing is being installed.
(Use your Back Button to Come Back to this Area)

The original foredeck has been cut away and shown is the new oak and pine framing, including the heavy Sampson Post.
(Use your Back Button to Come Back to this Area)

Shown are the uprights for the foredeck framing.
(Use your Back Button to Come Back to this Area)

Another view of the foredeck being built including the cabin sides and front.
(Use your Back Button to Come Back to this Area)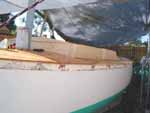 Foredeck and Side Decks are in place, along with the cabin walls. All Decking was coated with epoxy to seal the wood.
(Use your Back Button to Come Back to this Area)

Another view of the cabin being built, plus the hull primed and painted flat white, with light green bottom paint.
(Use your Back Button to Come Back to this Area)

Cabin is now installed with top, plus the pine Rub Rails.
(Use your Back Button to Come Back to this Area)

Detail of the foredeck non-skid, painted pale yellow.
(Use your Back Button to Come Back to this Area)

Cabin roof, 1/4 round trim, all Epoxy coated and varnished.
(Use your Back Button to Come Back to this Area)

Detail of the Tongue and Groove Pine interior.
(Use your Back Button to Come Back to this Area)

Side decks are laminated Fir, epoxy coated. Note the area where the original Centerboard was removed and rebuilt using epoxy and polyester fiberglass.
(Use your Back Button to Come Back to this Area)

Detail of the Tongue & Groove Pine interior and the rebuilt former centerboard area. Note the construction of the engine mount.
(Use your Back Button to Come Back to this Area)

Another view of the interior and stern area.
(Use your Back Button to Come Back to this Area)

This is a good view of the new mahagony transom, epoxy lamainated to the orignal fiberglass structure. The marine ply was further coated with epoxy/varnish and then all edges sealed with epoxy fiberglass tape. Note the long through-bolts used to secure the engine mounting bracket to the transom.
(Use your Back Button to Come Back to this Area)

Views of the framing for the stern area.
(Use your Back Button to Come Back to this Area)

The completed boat showing the fabric top, top framing and the masts. The forward mast has a "steam" whistle that is powered from an onboard air pump.
(Use your Back Button to Come Back to this Area)

Shown is the engine mount and the finishing details.
(Use your Back Button to Come Back to this Area)

Note the beautiful epoxy/varnish coated Fir side decking.
(Use your Back Button to Come Back to this Area)

Another view of the Fir side decking plus the stern area with the "ships" wheel. The steering is a new Teleflex Rack and Pinion cable system.
(Use your Back Button to Come Back to this Area)

A stern to front view showing the cabin and interior.
(Use your Back Button to Come Back to this Area)

"A Classic River Launch", ready for your next cruise...
(Use your Back Button to Come Back to this Area)

Best Regards,


Robert Mulligan-Boat Builder


Bradenton, Florida


For additional photos this boat's construction, please go to our Update Page:
(Use your Back Button to Come Back to this Area)


Click here to go back to Page 1...
(Use your Back Button to Come Back to this Area)


Click here to go back to our Home Page...
(Use your Back Button to Come Back to this Area)
For Prompt Service and Answers to your Questions, Please Use the Email Address Listed Below:
Email: photontek@aol.com