Quiet-Craft Yachts
P.O. Box 14457
Bradenton, FL 34280
Phone: 941-795-5225
Classic River Launches from the late 1800's
Quiet-Craft Launches are the perfect way to spend a sunny Afternoon.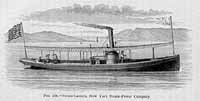 Classically modeled after small Electric and Steam Boats from the late 1800's, the Quiet-Craft River Launch is designed for two to four people to comfortably spend the day, cruising and exploring the Shoreline, Rivers, Creeks or Coves.
Just as our name describes, these boats are meant for "quiet" times and travel. They are the opposite of go-fast "Miami Vice" sport boats. They are designed for peaceful cruising, chatting among friends, perhaps a bottle of nice wine and overall, a time to get away from the stresses of the workday.
We have found that the design of the classic Quiet-Craft Launch attracts more than its share of attention when traveling among the common fiberglass cruising boats.
Descriptions such as:
"Look at that cute boat"
"That's the kind of cruising I want to do, and
"I bet that boat doesn't cost a lot to operate"
...are common.
The Quiet-Craft River Launch attracts attention wherever it cruises. Whether you are meandering a slow river, traveling to a waterfront restaurant, viewing a regatta at the local yacht club, or anchoring at the popular sandbar, your Quiet-Craft Launch will be the center of interest.
Equipped with a "steam" whistle (air powered) and a brass bell, you can reply in-kind, to the waves and toots from other vessels.

Quiet-Craft will either custom build a River Launch for you, or convert your existing older sailboat hull to a beautiful and useful classic vessel. We can locate suitable hulls for your new boat to meet your specifications usually from 12' to 22' long or if your older sailboat has become inactive due to blown-out sails or a bent mast, we can use your existing boat to build a "new" boat that can be used for relaxing cruising anytime. Typically the conversion cost varies between $5,000.00 to $18,000.00 depending on the engine choice and options such as woodwork and authentic period fixtures such as lighting, steam whistle, etc.

Every Quiet-Craft boat is different and individual. Rather than repeatedly molding hulls from the same mold for look-alike boats, we use existing hulls from retired centerboard sailboats. The decks, cabins, flooring and centerboards are cut away leaving a bare, solid fiberglass "bathtub".
From that solid hull, we build our custom boats using both modern day and traditional techniques and materials.
For example, while our woodwork may resemble a traditional wooden boat, every exterior piece of wood is heavily coated inside and out with clear epoxy. This provides a long lasting finish that resists the nicks and bumps that your boat will be exposed to over its lifetime. To further protect the epoxy coated wood, we apply at least four coats of UV Marine grade exterior varnish to all exterior and interior woodwork.
Our boats are designed for you to have fun with. Yes there is a certain amount of pride and pleasure achieved from maintaining (light sanding and varnishing) your woodwork, but you don't want to be a slave to your classic boat. Maintenance on a Quiet-Craft boat takes about the same time as the normal waxing and polishing on an all-fiberglass boat, except that it is more rewarding.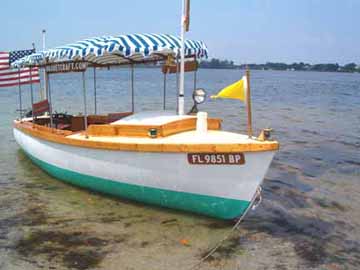 We use a variety of woods in our boats. Most of the wood that you will see for the rubrails, cabin sides and interior is pine with the side decks usually being fir. These woods have more "personality" than mahogany, plus they do not require "color-staining" prior to varnishing. This enables you to quickly repair any bumped wood areas simply by sanding and reapplying the varnish to the damaged area and allows for a good color match to the surrounding areas.

For the structural supports for the foredeck and cabin roof, we use steam-bent oak and epoxy laminated mahogany.
The combination of modern and traditional methods and materials enables the Quiet-Craft boat to have the classic charm of motor launches of the last century, but with the low-maintenance of a modern-day vessel.
Just completed (and sold!):
As an example of the conversion process and the workmanship that goes into each Quiet-Craft River Launch, below and on the following linked pages is a River Launch that we just sold. It is now used on a closed Lake near Tampa, Florida.



This vessel was based on a solid (non-cored) fiberglass hull from a 20' Helson centerboard sailboat. As shown in the photos, we stripped the original hull back to its bare fiberglass (thereby lightening the boat up considerably), and began a five month construction of a new boat.

We equipped the boat with a 9.8 HP Nissan 2 cycle outboard motor, and an optional 12 volt 52 lb thrust MotorGuide Electric Trolling motor. We have used Nissan 9.8 HP 2 cycle OB motors on other boats that we have built and like them for their dependablity, lightness (1/2 the weight of a 4 cycle motor) and quiet exhaust.

Since our particular area (Bradenton, FL) has many sites to visit, but with fairly long distances between each, we would recommend a gas OB for similar uses. However, in lakes, protected areas and sites where exploring and cruising can be accomplished at a slower speed and shorter time period (depending on the number of batteries you equip your boat with and the crusing speed, an electric trolling motor is a perfect low-noise method of powering your Quiet-Craft boat.

NOTE: We wired this boat with heavy gauge cable from the bow mounted battery to enable the easy adaptation to a 12 volt Electric Trolling Motor. While the gas powered 9.8 HP outboard engine will get you quickly to where you want to go, the engine mount is designed to install an electric Trolling Motor "side by side" to the outboard, thereby enabling you to power quickly to your cruising area, and then quietly cruise with your Electric Trolling Motor.

We invite your further inquiries.

We have listed Thumbnails of the building process.

Best Regards,
Robert Mulligan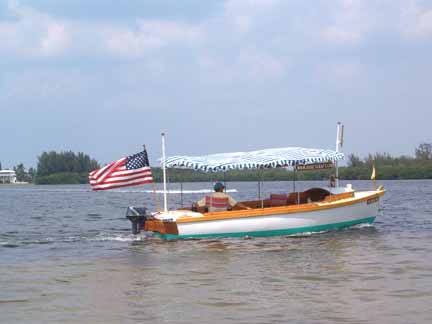 This boat is a 20' fiberglass yacht with epoxy coated pine and fir trim. It is powered either by a 9.8 HP Gasoline outboard or an Electric Trolling motor powered with Batteries. The 9.8 HP Nissan 2-Cycle Outboard was included with the boat. The Electric Trolling motor is not.

Specifications


Price $19,700.00 including trailer and outboard motor
Length 20.0'
Beam 5.5"
Draft 7"
Weight 650 lb
Capacity 4 adults
Hull Construction Solid fiberglass
Motor 9.8 Gas Nissan 2-Cycle Outboard (included) and/or an Electric Trolling Motor (not included)
Battery One 12 Volt Deep Cycle Marine


Addtional Features:
Stainless Steel Screws/Fastenings
Brass Ship's Bell
Air Powered Steam Whistle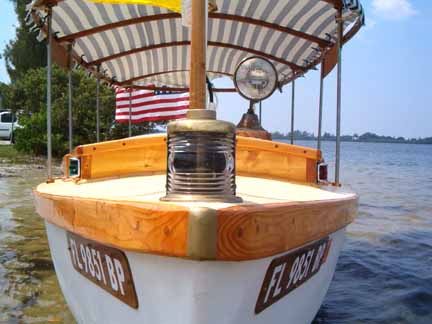 This boat has many classic and antique fitting that give charm and character to its design.


A view from the bow under power.


Under power, at speed. She is faster than an all electric boat and can run quickly away from bad weather, power through waves or cruise from site to site in a quick fashion.
NOTE: You won't see an "all-electric" River Launch ever getting up to a speed like is shown in this photo. If you are going to use your boat in open waters such as a River or a Bay, you need to be able to get where you want to go quickly and get back, just as fast. All-Electric boats won't do that. If a storm or winds come up and your cruise is not comfortable, you want to get back to port in a timely and safe manner. Equipping your River Launch with a powerful gas outboard motor will allow you to explore more areas in less time. Once you get to your crusing location, just turn on your electric trolling motor and cruise for hours, totally in silence.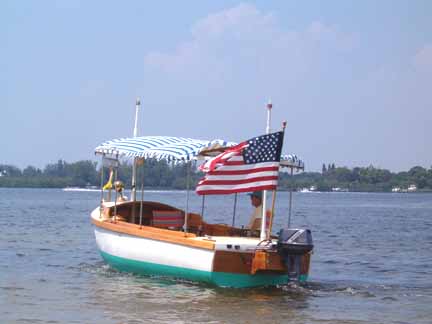 Rear view showning the varnished mahagony transom.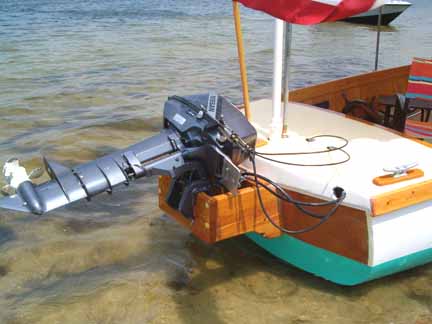 View of the transom and the motor mount, both classically designed.


Equipped with Teleflex Remote Throttle and Gear Shift cables, and Teleflex Rack&Pinion Cable Steering.


Another view of the stern/transom area.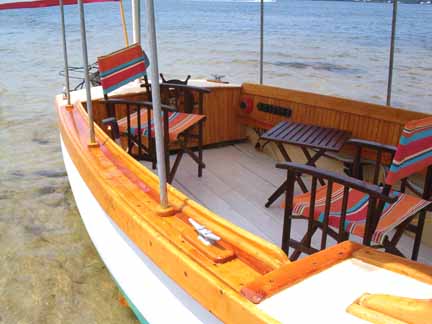 The side decks are laminated Fir, rubrails and cowling are pine, all coated inside and out with Epoxy, and then four coats of marine UV varnish.

Included are four folding deck chairs (varnished) and a matching table.


View of the cuddy cabin with lots of room for storage. The cabin roof and front decking are supported by steam bent oak frames, all Epoxy coated and varnished.


Another view of the Cuddy Cabin. Both the fuel tank and the battery are located in the bow area for proper wieght balance.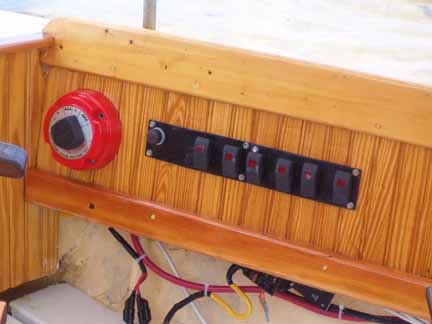 Shown are the electrical switches for the lights, whistle and bilge pump. Wiring for all lights is Anchor Marine Tinned, stranded wire with extra heavy gauge wire for the spotlight.

Best Regards,


Robert Mulligan-Boat Builder


Bradenton, Florida


UPDATES: For updated photos this boat's construction, please go to our Update Page:
(Use your Back Button to Come Back to this Area)


Click here to go back to our Home Page...
(Use your Back Button to Come Back to this Area)
For Prompt Service and Answers to your Questions, Please Use the Email Address Listed Below:
Email: photontek@aol.com